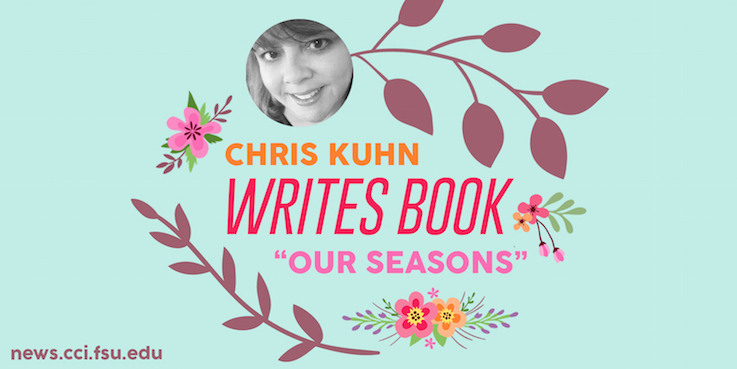 Chris Kuhn (B.S. Communication, '92) is a pop-culture enthusiast, FSU graduate, and soon-to-be two-time author. Her first novel, the contemporary romance The Muse Unlocked, was published just over two years ago.
Prior to becoming a published fiction author, Kuhn has built up extensive experience in writing and editing. From serving as an editor for local magazine skirt! Tampa Bay to being published in both local publications such as The Tampa Tribune as well as national magazines such as Next American City, Kuhn has earned herself an impressive portfolio. It's no surprise that this talented writer is preparing to publish her second book.
Our Seasons will feature four short stories and 52 poems to symbolize a year in the life, including the influences, experiences, emotions and surroundings that make every day in our world unique. Still, Kuhn skillfully managed to find a commonality within every piece that ties everything together.
Kuhn explains, "Each story is very different from each other – in subject matter, characters featured, mood, style and length – but there is one unifying thread that weaves throughout all of them: the integration of a public art piece (or pieces) within that story as another character or characters within the plot."
One of the stories in Our Seasons that Kuhn is most excited about is "Learning to Fly," the short story for the fall section, which features Tallahassee as its setting. The story highlights Icarus Wings, a 15-foot painted steel sculpture located at the Aeropropulsion, Mechatronics & Energy Building at Innovation Park that was created by FSU MFA student Noah Z. Brock.
The new book will be out in November of this year and will be available for purchase for Kindle from Amazon. It will also be sold at independent bookstores such as Tallahassee's My Favorite Books, located on Timberlane Road. Kuhn will be attending a book signing at that location on Saturday, November 21, from 1 – 3 P.M.
For more information about Chris Kuhn and her writing, visit her website here.