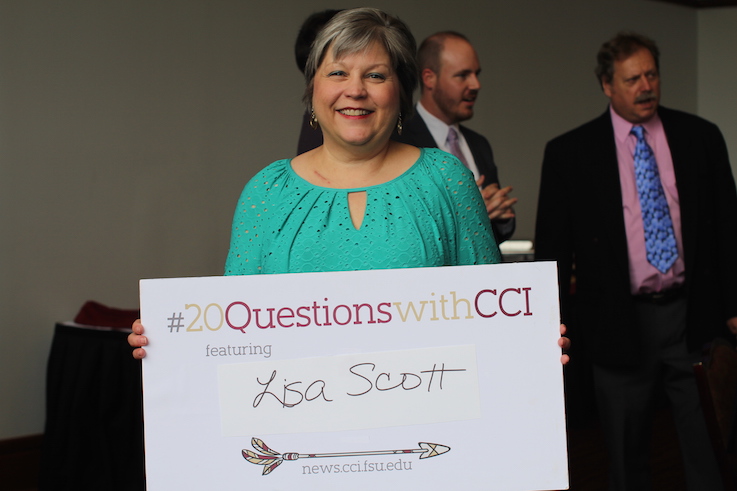 What was your first job?
I worked as a car hop for A & W Root Beer. I didn't have to wear roller skates, thank goodness, because the mugs on the trays were REALLY heavy!
If you were to write a personal memoir, what would you name it?
Things That Made Me Laugh.
Where did you grow up? 
Lincoln, Nebraska. I was 32 years old (and had just gotten my Ph.D.) before I ever lived farther than 5 miles from the hospital where I was born!
What is your favorite class you've taught?
SPA 5554, Counseling is probably my favorite class, although I love to teach so I enjoy most of them!
What is your favorite place to grab dinner in Tallahassee?
I don't have a favorite, there are so many good places to eat here!
What are your hobbies outside of work? 
Spending time with my family, playing with my 3 dachshunds, and traveling.
Have you always wanted to teach? 
I don't consciously remember thinking this until I was an adult, but I "played school" a LOT as a child, so… probably yes!
What is your favorite place you've traveled to or where would you like to go?
This is a hard question to answer, because I've traveled to some goofy/insignificant places but the trips were special because of the friends/experiences I had there. I always love going home to Nebraska. I've also been fortunate enough to travel to some amazing locations. Hmm. I loved Italy, and I would like to travel around the U.K.
How many football games have you attended? 
0 at FSU (eek). But lots of others (Go Huskers!)
Proudest career/life moment?
I am fortunate enough to have too many career and life moments to narrow it down to one or two, seriously! I have been lucky enough to have had so many great experiences in my life.
What's your favorite band? 
Lyle Lovett and His Large Band
What is the best piece of advice you've ever received? 
You don't have to be brave, you just have to show up.
If money were no object, how would you spend your days? 
I would spend them with my family and my dogs, just hanging out and doing whatever we feel like doing that day.
What is your favorite book and why? 
Green Eggs and Ham. I just love Dr. Seuss, and this book is appropriate for any audience!
If you could be famous for something, what would it be? 
A jazz singer.
What Jeopardy category could you clear, no problem? 
Actually, probably a lot of them. I'm kind of a trivia nerd and always get "chosen first" for trivia teams!
Do you have any pets? 
I have 3 long-haired miniature dachshunds: Zoey Sparkleberry, JamesBond, and The Bean.
When did you start working at Florida State University? 
January 2002.
What was the last movie you saw in theaters?
Wild
What is the best part about your job? 
Being able to interact with so many different people in so many different ways: students, colleagues, and clients. Everyone has a story to tell.
'20 Questions with CCI' brings faculty and staff from the College of Communication & Information into a new light. Learn more about your favorite professors – their hobbies, interests and favorite Tally places.
Do you know someone at CCI you'd like to see featured? Submit their names to kate.mullen@cci.fsu.edu.