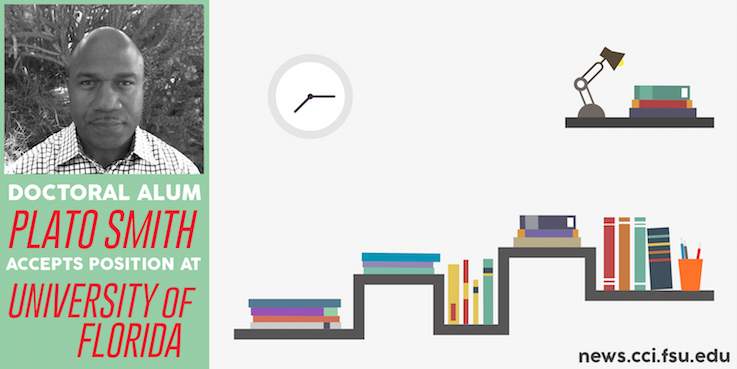 As he finishes up his postdoctoral fellowship at the University of New Mexico, CCI alumnus Dr. Plato Smith (Ph.D., Information Studies, '14) has accepted a new position with the University of Florida as Associate University Data Management Librarian on the tenure track.
While at Florida State, Smith served as a Teaching Assistant as well as the Associate University Librarian and Digital Library Head for FSU Libraries.
Smith says, "Florida's iSchool has taught me to be intellectually curious, scholarly active, and pragmatically altruistic. I am humbled and grateful for the support, guidance, and expertise I received from the faculty during the course of my doctoral matriculation."
During his time at UNM, Smith participated in several ventures, including co-authoring the UNM Libraries' ACRL Assessment in Action (AIA) 2015 proposal, taking part in the delivery of the Research Data Services (RDS) training for graduate students and assisting with the development of RDM and UNM. He also helped advance the EarthCube Funded Projects Questionnaire and received the EarthCube Community Service 2015 Award for his contribution and participation.
As Associate University Data Management Librarian, Smith will pioneer and develop a data management services program. Specifically, Smith's new position will include responsibilities such as coordinating ongoing training and support for staff on data management fundamentals and services, serving as primary library consultant to UF faculty, researchers and project teams on development of data management plans for grant applications and general data stewardship, and assessing campus-wide data management needs and current support resources and activities.
One of the responsibilities that Smith is most looking forward to is working with library departments and experts to develop infrastructures and services that enhance access to data. Smith will also chair the Data Management and Curation Task Force.
To learn more about the Information Studies program at FSU, click here. Additionally, if you're interested in reading Smith's work, some of his publications are available via FSU's Digital Library Center.