This article was written by Jessie Colegrove, a senior public relations student and School of Communication Director's Ambassador.
As we move into the new year, a big focus is placed on resolutions. How can we make this year better than the last?
By networking and actively seeking opportunities to gain experience in the communication field.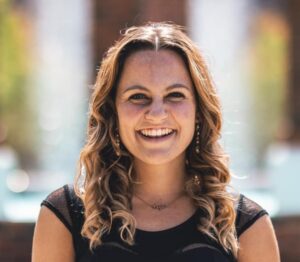 Samantha Kane is an FSU alum who graduated in May 2019 with a Public Relations degree. From working as Campus Rep for Doak After Dark to working as Radio Promotions Coordinator for Big Machine Records in Nashville, Kane built connections and took advantage of opportunities to work in the field she loves most. Realizing the importance of networking, she was eager to pay it forward for other FSU students interested in music so she formed the FSU music industry LinkedIn group, providing FSU students and alumni a place to connect with each other, share helpful resources, and find job opportunities.
We were able to catch up with Samantha Kane before the end of 2020:
Can you tell us a little bit about what you do in Nashville?
I work at Big Machine Label Group as the Radio Promotions Coordinator for Big Machine Records. One of my favorite parts about this job is it encompasses a lot of different areas within the music industry and almost no day is the same (aside from Mondays). Mondays are what we call "Chart Days," and are pretty much my only routine day of the week. I have a set checklist I go through to pull a variety of data and reports for our current radio singles. Every other day of the week can range from covering a media content day or artist performance, meetings, working with our Operations team to get items shipped out, communicating with our artists' managers to set up phoners, editing audio, and so much more! In this position, I get to work with every department in the label as well as outside partners, allowing me to learn a lot about the Country music industry.
How did you take advantage of networking opportunities during your time at FSU?
Networking for the music industry is a little difficult in college when you don't live in a music dominated city like Nashville or Los Angeles, but I tried to find as many music-based opportunities as I could while in school. Before I had any internships, I worked on a street team for a radio station, I was a College Ambassador for the Okeechobee Music & Arts Festival, and I was a Campus Rep for Doak After Dark.
After I had done a couple of internships and I was going back for my senior year, I connected with Jason Dennard who oversees Friday Night Block Party and Doak After Dark. I wanted to see if they were interested in having someone help just on the music side for the concerts, and
luckily, he remembered me from being a Campus Rep and brought me on the team. For both concert series, I was one of the points of contact for artists and their teams. I also helped run some of the social accounts for both concert series during the shows. He was very instrumental in keeping me connected to music while finishing out my time at Florida State!
How did you get involved with the music industry? What opportunities led you to the path you are on now?
I've wanted to work in the music industry since I was a little kid. It's really the only thing I've ever been interested in or wanted to do. I saw John Mayer in concert and the second he got on stage and started singing I knew I wanted my career to be in the music industry. My journey into actually getting my foot in the door of the business is a little long but I'll give the shorter rundown and I'm more than happy to share the longer version with anyone interested!
I worked for three years to get an internship with the Academy of Country Music for their award show. The first year, I missed the deadline, the second year I made the first round of interviews and then didn't get it, and finally the third year I went through all three rounds of interviews and finally got it! While interning there, we worked on updating a master contact sheet. Though it took three of us working on it for a couple weeks, it is probably the task I am most thankful for from that internship. Through it I learned the key players and companies in Nashville, and it opened a new door of internships to apply for during the summer.
One of the companies I learned about was Sweet Talk Publicity, a boutique publicity firm located in Nashville that reps a variety of artists. Her and I got connected and she offered me an internship for the summer going into my senior year. While I was interning in Nashville for the summer, I was looking for opportunities to stay connected with music when I was back at school. I reached out to Jason Dennard to get involved with Friday Night Block Party and he brought me on for that and Doak After Dark as well!
Later in the Fall semester of my senior year, I tried to think of what else I could do besides FNBP and Doak After Dark to stay connected to the music industry since I wouldn't really be able to apply for jobs for several months. One thing I've always found extremely beneficial is informational interviews. So, I reached out to some of the people who had previously interviewed me for an internship and then moved on to cold emailing people to learn as much as I could and put my name out there. One of the people I connected with worked for CMA, and a couple of months after we spoke reached out to me about a temporary job they were hiring for. I got the job and left school in April (finishing my classes remotely) and moved to Nashville. I was back and forth between Nashville and Tallahassee the last month and a half of my senior year and worked for CMA through CMA Fest till the end of June 2019.
I was going for a full-time position with CMA, but unfortunately it didn't work out, so I started looking for new opportunities in town. I reached out to one of the people I had connected with a couple of years prior and he passed along my resume. A couple of days later I learned about the
opening at Big Machine, interviewed and received the job offer on my last day at CMA. Talk about timing!
What inspired you to create the FSU music industry LinkedIn page?
Over the last couple years and even more so this year, I've had a bunch of students reach out to me to pick my brain about my journey and ask advice for getting into the industry. The more people reached out, the more I thought about what I wish I would have had when I was trying to get into the industry. Florida State is the best, but unfortunately, there aren't a ton of resources when it comes to wanting to work on the business side of music. For me, it was really learning as I went and finding my own opportunities. I wanted to give students something I didn't have. A networking group where they could easily connect with alumni in the industry. An internship/job board where they could find companies that they may have never even known about! Also, being an alumna, new to the industry, and always looking to learn, I wanted a place where I could connect with fellow alums in the industry. I've had so many help me along the way, I wanted to be able to help others too.
What do you hope will come from members joining the LinkedIn page?
I really hope students and alumni find it resourceful! I want them to connect with graduates and learn more about the industry before they even do an internship so that they can walk into those interviews prepared. I've learned so much from hearing other people's journeys and advice. I also hope that I and other alums in the industry get connected and really form an FSU music industry network!
Is there anything else you'd like to add?
A lot of people have asked for advice and what I did when I was trying to get my foot in the door, so I thought I'd include my top pieces of advice. *note that this is what worked for me and may not work for everyone!
Informational interviews!!!!
This has probably been one of the biggest factors in my career. You get to learn about the industry, the company and the person, but they also get to learn a little about you. It gives you the opportunity to put your name out there without asking for something in return. You also never know what it could lead to. For me, it's led to a job at CMA and my current job at Big Machine!
Don't be afraid to reach out to someone about an opportunity, even if nothing is posted anywhere.
I honestly created a lot of my experiences simply because I reached out and asked if they needed help.
Don't be too good to volunteer your time!
As mentioned above, I've gotten so much experience over the years because I reached out and asked if they needed help. I volunteered my time (yes, for free) and made myself available to help them in any way I could, and in return I got tangible experience to take to future internships and jobs.
Don't give up if something doesn't work out the first time (or second, or third).
It took me three years to get the internship with ACM. Everyone always says that timing is everything and they're 100% right. Keep trying and it'll work out exactly when it's supposed to.
When you get a rejection (because it happens to everyone), ask for feedback!
Show that you want to become a better candidate and professional. Take what the interviewer says and work on it. Come back even better
Start looking into internships and opportunities early in college, the more experience the better!
Look for Campus Rep, College Ambassador and Street Team opportunities for bands, concerts and festivals. They're a great starting point!