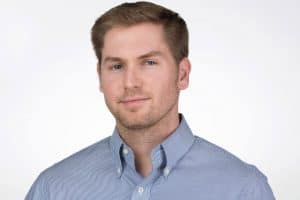 Ponte Vedra Beach native, Harrison Minchew, earned a B.S. in Information Technology in 2014. In his present position at Mad Mobile, Minchew leads a team of engineers focused on transforming the in-store retail experience with Concierge. Concierge, Mad Mobile's award winning mobile solution, brings insights and digital capabilities to the sales floor enabling associates to connect with customers on a personal level and sell in new ways.
While coding is still his passion, Minchew's responsibilities vary day to day. From traveling for onsite customer implementations, to one on one code reviews, and architecture meetings; he wears many hats for the small startup of 40. "My first real gig out of FSU was with a Fortune 100 corporation, the perks and stability were nice, but I wasn't learning and being challenged. I jumped ship to my first startup after a year, the workload and responsibility increased dramatically but I'm constantly learning," he said.
Minchew knew from a young age that he loved working with computers. "I've always loved tinkering with and building computers," he shared. "As a kid, I had a PC repair business and quickly realized this was the right industry for my career."
The hands-on aspect of this industry is not the only thing he enjoys in working in IT. Minchew gets to see his creations come to life. "I love seeing real people using the software I helped create and hearing about how that technology solved a real-world problem for them."
To learn more about Harrison, continue reading our Q&A with him.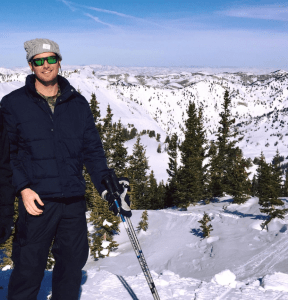 How did your education prepare you for your career?
Dr. Jowett's Database classes helped me understand how data is organized and more importantly how that data drives business/ enterprise systems.
Where do you look for inspiration?
Nature. Stepping away from the screen to decompress outdoors allows me to approach problems with a clear mind.
What is the best account to follow on social media?
Software Engineering Daily
What is your dream job?
I'd like to start a software company building solutions for underserved industries like agriculture and construction.
Favorite Office snack?
Beer.
What is the best piece of advice you've ever received?
"You own your career."
How do you handle work-life balance?
In a startup environment the workload ebbs and flows. You must appreciate the slower times and work only 40 hours to prep you for the 80+ hour weeks.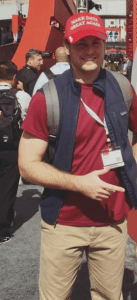 What Jeopardy category could you clear, no problem?
90's Country Hits
Share a notable experience you've had at work.
I had the opportunity to attend Oracle's Open World conference in San Francisco a couple years back and networked with some of the best minds in the industry.
How has working in the industry changed how you look at the world?
I have come to realize that our personal data is a commodity and the value it adds to businesses is misunderstood and under-appreciated, we should better protect and be careful what we share.
Who do you admire and why?
My mentor and boss Jared Rodriguez. I admire his ability to bring revolutionary technical solutions no matter the industry or business problem.
What advice would you give yourself in college?
Be in the moment, have more fun, you're going to do just fine.