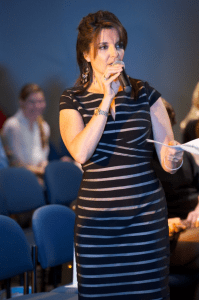 Sharon Delaney McCloud graduated with a B.S. in Communication and minors in Music and Theater from Florida State in 1989. Sharon took that degree and ran with it, and amplified her knowledge across the world and across a wide range of businesses and organizations. She uses her many gifts doing one of her favorite things   storytelling.
Sharon currently leads Walk West, a full-service and award winning digital marketing agency in Raleigh-Durham, North Carolina, as Partner and Vice President of Professional Development. She joined Walk West as it merged with Greenroom Communications, a company she co-founded in 2008. Greenroom Communications specialized in video content as well as website and social media management. When the firm partnered with Walk West, an unstoppable and service-oriented digital agency was born. There, Sharon leads video production, media training, and she coaches executives; authors; and athletes on presentations.
However, Sharon's career has not been a one-stop destination. A wearer of many hats, Sharon began as a news reporter for WCTV in Tallahassee, later moving to other locations in Louisiana; North Carolina; and Florida to work as a news anchor. While in Tallahassee, Sharon was a special correspondent during the Persian Gulf War and served with the U.S.O. as a performer. She eventually moved to North Carolina, and worked as a news anchor for WNCN-TV . After being there for about 7 years, Sharon became the host of My Carolina Today.  A beloved and trustworthy TV personality, Sharon earned an Emmy Award in broadcasting
Sharon brings her talents to coaching to share her skills in public speaking, media relations, storytelling, message development, and much more. Not only does she do this daily in her career, but she also dedicates time to speaking at conferences and events. She is an active member of the National Speakers Association who loves to engage with others while also educating them.
Sharon is a motivator for audiences teaching them all from building executive presence to confident communication and facing adversity. For Sharon, one of these adversities was breast cancer. In Turning Battle Scars Into Badges of Honor – How to Build Resilience in the Face of Adversity, Sharon redefines resilience in her own narrative of the ups and downs of life as a working mother. She continues to be a warrior for cancer patients, continuing to volunteer with The Leukemia & Lymphoma Society and St. Baldrick's Foundation.
To learn more about this superhuman, continue reading our Q&A with her.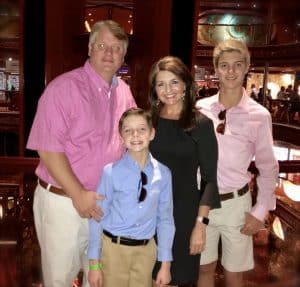 Tell us about your job.
After a 20-year career as an Emmy Award winning television journalist, I started my own digital marketing agency where we produce a wide range of content for national and regional brands. In addition, I lead the professional development practice at Walk West where we offer media training, public speaking & presentation coaching, workplace communication and executive presence training.
What is your favorite office snack?
Fig Newtons (organic, of course)
Who do you admire and why?
Nobel Peace Prize winner Leymah Gbowee; Gbowee is a trailblazer who showed the world the power of being heard, both literally and figuratively. Through her voice and her conviction, Gbowee got a ruthless dictator in Liberia removed from office and was a catalyst to getting the first female president elected in Africa. Gbowee changed history and has emerged as an international leader. And it all started with her ability to find her voice.
What is the best account to follow on social media?
GenderFair
Where do you look for inspiration?
As a cancer survivor and bereaved parent to a child who also had cancer, I'm continuously inspired by my late daughter and the community that has given us constant support during her illness and mine.
How did your education prepare you for your career?
As a communication major at FSU, the classes I took and professors I learned from definitely prepared me for both my television and agency careers. The ability to tell stories is at the essence of what we do every day. That all began in the halls at the School of Communication. From the media performance classes with Dr. Donna Nudd to working the sidelines as a sports reporter for Seminole Uprising, my training at Florida State launched my career in very practical ways.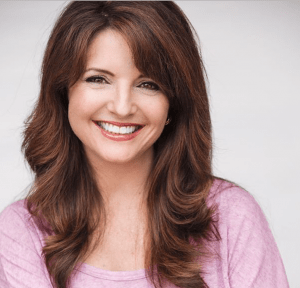 What is the best piece of advice you've ever received?
"Life is not measured by the number of breaths we take, but by the moments that take our breath away."
How has working in your industry changed the way you look at the world?
I truly believe that you can't judge a book by its cover. Over the last 25 years, I've had the fortune to tell many people's stories. Going behind the facade and understanding how people tick is a privilege I don't take for granted. Sharing those stories as a journalist and now marketer is very gratifying.
Share a notable experience you've had at work.
Being in the heart of Tobacco Road and representing the ACC's most successful football program with FSU has been a blast. But there have been many occasions over the years when my obnoxious, super-fan antics get silenced when we lose to NC State, UNC or Duke – in both football and basketball. And that's quite a feat to keep me quiet. #GoNoles
What Jeopardy category could you clear, no problem?
Current events
How do you handle work-life balance?
Trying to balance work and life is a constant challenge. Over the years, I have found that it ebbs and flows. Once I had children, I made a very deliberate change in my career to be able to focus more on family. While I always have worked full-time since graduating from FSU, I made the difficult decision to leave television news and start my own company in order to achieve more flexibility. That was the best decision I could have made.
What advice would you give yourself in college?
Don't be in such a hurry. I raced through FSU taking 18 and 21 hours a semester in my freshman and sophomore years so I could graduate quicker. How I wish I had savored those days in Tallahassee longer. Thank goodness my husband's family all live in Tallahassee so I can get back often.