Students in the IT Leadership class this past semester had the privilege of hearing from leading IT professionals (all CCI Alumni) during the Spring Leadership Speaker Series. 
Speakers from companies such as Amazon, Facebook, Deloitte, Lockheed Martin, and JP Morgan shared their experiences and expertise with students throughout the course of the Spring semester. For students in the class, hearing from these speakers was invaluable. Many of the students in the class were graduating seniors, about to embark on a career in technology. 
"IT Leadership class connects our current students with alumni that are leading in their organizations.  There's no comparison for the leadership, knowledge, and networking that can be gained by being a full participant and engaging with fellow Noles.  Professor Randeree makes it a point to give every student a chance to gain meaningful leadership experience in class." said Luke Weaver, who recently graduated with a degree in ICT and is now working for A-Lign. 
"This is one of the most valuable courses I've taken during my time here at FSU. Like any college student, I was nervous about what I would do after graduating, but from the practical, hands-on projects to the opportunity to speak to alums in the field, I feel prepared to take on the world! As long as you prefer Dunkin' to Starbucks and are willing to put in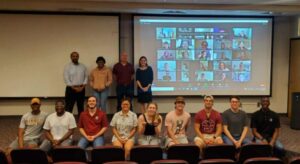 the work, Prof. Ebe is an invaluable resource that cannot be replaced here at the College of CCI." added Mary Meburg, another recent CCI alum. Meburg will be starting her career as a software engineer for General Motors. 
In many ways, the chance to engage with CCI students was just as meaningful for alumni. Gerard Massey, FSU alum and CCI Leadership Board member, was one of the alumni invited to speak with students. "I had an amazing time connecting with Ebe's leadership class this semester! As a member of the CCI Leadership Board, I'm constantly trying to find ways to connect with our students to find what ways we as a board can serve them better," he said. "I always send the students a link to my calendar and ask them to schedule time with me if they ever have questions about their college career or how to transition from college to the workforce. It was exciting to see many students from the class request further time with me, whether it was for a resume review, career questions, or overall professional growth. Anytime I get to speak with students is easily the best part of my day!" 
The full list of Spring 2022 speakers included: 
Adrianna Vidal
Amazon
Russ Hill Jr
PropLogix
Gerard Massey
Bezos Academy
Rodrigo Callirgos
Praxent
Samantha McCandless
Yosemite
Kayode Adegbite
Facebook
Alexis Wood
JP Morgan
Taylor Seybold
JP Morgan
April May
DISA
Cody Martin
TekSystems
Mikayla Owen
Lockheed
Natalie Marcelo
Lockheed
Dadrian Campbell
Deloitte
Started in the Fall of 2020 in response to Covid, the series has been very successful.  According to Randeree, "The IT Leadership class has always hosted a few alumni coming through Tallahassee each semester since its launch in 2010; while Covid restricted travel, it also presented an excellent opportunity for the program to expand its reach. In our 4th semester doing this, we have connected with over 50 alumni – the primary goal of the series is to foster networking between our current student leaders and those engaged alumni leaders that allows for professional, and personal growth and builds links across CCI generations."