School of Information alumna Lauren Del Brocco has recently returned from a Peace Corps volunteer assignment in Namibia located in Southern Africa. Her work with Namibian youth included primary education in STEM fields, discussing sexual health topics, HIV/AIDS prevention, and empowerment of boys and girls to be agents of change in their community to end the stigma of teen pregnancy.
Lauren graduated from Florida State University's School of Information in 2014 with her B.S. in Information Technology. After beginning a career in marketing and web development, she soon felt the call to join the Peace Corps so she dove in head first and submitted her application. What started as a childhood dream became a passion for Lauren as she began serving the people of Namibia working mainly as a Primary School Education Volunteer teaching STEM (Science, Technology, Engineering, Mathematics) subjects. "I taught at a primary school in a rural village in Northern Namibia teaching grades 5, 6, & 7." Lauren explains, "The main focus in the first year was teaching Mathematics and Information Communications, which included efforts to improve english literacy, computer literacy, mathematics proficiency, learner behavior, and classroom management." In her second year of service Lauren focused primarily on HIV/AIDS prevention. This included extensive education amongst youth as well as sexual health education specifically for young girls as they are the most at risk for unwanted pregnancy, illegal abortions, and contracting HIV.
Namibia is a large country located in Southern Africa between Angola and South Africa boarding Zambia, Zimbabwe, and Botswana. Namibia is home to a little more than 2.5 million people who make up about twenty tribes. It has an extremely diverse landscape and one of the world's largest deserts and the world's second largest canyon. They gained independence from South Africa in 1990 and have elected three presidents since. Peace Corps has been in Namibia since they gained independence, hosting Volunteers who work in education, health, and business projects throughout the country.
Fulfilling her dream as a Peace Corps Volunteer has been one of the most exciting yet difficult times in Lauren's life. "Never did I think that I would move across the world to Namibia, a country I had never heard of, to find a place I now call my second home. Not only did I find myself very at home, I met some of my best friends for life, I am part of an enormous family, and most importantly I found my passion and drive for my future career."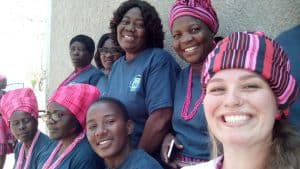 Once Lauren began working more closely with counterparts and fellow Peace Corps Volunteers in Namibia, her passion became clear. "I found it so important to work within my community to work to stop the stigma surrounding HIV/AIDS and teen pregnancy in Namibia. By working with the students, fellow Volunteers, and community members, we focused on discussing sexual health topics and the cultural barriers that exist to prevent people from living healthier lives in Namibia. Through sexual health education at school, after school clubs, and quarterly youth leadership camps, we were able to empower both male and female students in becoming leaders in their communities who can make a positive influence on others. Following a year of pursing this in my community and seeing how my students grew as leaders amongst their peers, I am positive that a career in public health and youth leadership in Africa is absolutely what I want to pursue."
Looking ahead, Lauren is in no rush to dive into another project as she's enjoying time home with her family in Houston, Texas. However, she's excited to pursue her future plans . "My main goal for the future is to return to the African continent and focus on leadership and female empowerment in girls and young women who are at risk for teen pregnancy and HIV." says Lauren. "To get there I am interested in getting my master's degree in urban planning and development with a focus in international development or public health."