iSchool Alumna Ashley Dias (B.S. '12) was a guest speaker at Reputation's Transform 2023 Conference where she received the Innovation Award. This award is dedicated to a Reputation client or partner who demonstrates innovation within the field of customer experience.
This conference is focused on brand reputation and customer experience. Within three days and nineteen sessions, guest speakers from different companies provided their marketing expertise and learned more about new features from Reputation's platform.
Dias received this award for her work with getting AutoNation back into the No.1 Public Dealer group in Reputation. Dias' internal achievements that led to the company back to No.1 include her creation of the 900 Club for Stores and Associates alongside a contest called Race to Elevate, which educated and raised awareness about the importance of Reputation. When receiving her award, it was announced that her "passionate and game-changing processes have put customer experience at the forefront of this brand."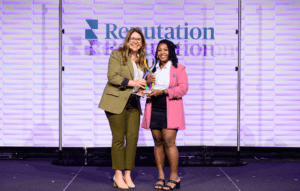 "This award showed me how many people recognize the work that I do, even when I don't recognize it myself," said Dias. "In marketing and even in work life, things are constantly changing, and you must learn to adapt while being open to change."
Her speech centered around recognizing associates and employees and highlighting the positives of customer experience. She also took this as an opportunity to educate on how to improve the overall customer experience.
When asked about how she sees herself as an innovator, Dias explained, "There were times I had to teach myself new things in the automotive industry as well as marketing to make sure that I was always ahead or at least close to it. I think without the determination and dedication in my work, I would not be where I am today."
Dias credits her professional growth to her early career. Prior to joining the AutoNation family, she handled email and account management at a boutique agency. During that time, she got to "dive into many parts of marketing and get a true understanding of all the moving pieces," which prepared her for her current role as Sr. Customer Marketing Manager, where she handles AutoNation's brand reputation, customer engagement and loyalty, and RepairSmith's entire marketing.
During her time as a CCI student and even in her early journey working in customer experience, Dias noticed different needs in her field and composed her own ideas based on what she witnessed. She looks at failure as a motivator that leads her to develop even greater ideas.