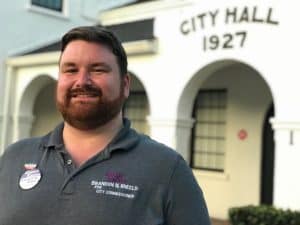 "Don't be afraid to dabble," says FSU iSchool alumnus Brandon Kneeld (B.S. '09 IT and Meteorology). And dabble he did. Kneeld started out as a Meteorology major before eventually discovering IT was a way to use his passions in a career setting. He now works as a Senior Platform Engineer at Disney Parks, Experiences, and Products (DPEP) and is a City Commissioner for the City of Davenport.
"Growing up I wanted to be a TV Meteorologist. While I haven't done that since leaving the FSU Weather team, I've found a lot of the same elements that I love in what I am doing today. Just as TV weather was equal parts performance and science, at Disney I get to use science to help deliver some of the world's most creative content to our guests. And politics is very much a constant performance in how you communicate and represent the people, but using data and facts as the basis of that helps me to make the right decisions for the city," he says.
At Disney, Kneeld's time is divided between engineering new experiences and supporting operations by problem-solving unique issues. His favorite part of the job? "Delivering the magic by creating a robust platform that will deliver some of the most creative and innovative content in the world to our consumers," he says, although having lunch with Darth Vader is a close second.
It was actually Disney's Pixar films that first got Kneeld interested in the field of IT. "When I saw the first Pixar movies, I was blown away by the use of computers to bring art to life. As I was exposed to the Internet, I found technology was a great way to deliver creative content to people everywhere. I fell in love with that technology and knew I wanted to be part of that delivery process," he explains.
When it came to government, Kneeld always knew he was called to civil service. He didn't let FSU's location in the state's capital go to waste. "While at FSU, I immersed myself in the politics of the state capital and worked on many campaigns. I knew it was something I wanted to be a part of wherever I went," he says. With this experience, it's no surprise that Kneeld won his first election with 68% of the vote. As City Commissioner, Kneeld gets to help create a long-term vision for the City of Davenport alongside four other Commissioners. He loves getting to help people through projects such as opening schools or building roads. Kneeld was also appointed as a city representative to Polk County Transportation Planning Organization and joined the Board of Trustees for the Heart of Florida Regional Medical Center.
Kneeld has no doubt that his education at FSU prepared him for both career paths. "Communication was a big part of my education and a big part of both my work for Disney & for the city. You have to be able to effectively communicate a vision if you're going to deliver on it and ensure it meets the needs of your customers or constituents. To this extent, my education in process and planning has also been important in delivering on time, efficiently, effectively, and without negative impacts. Additionally, learning about a data driven approach to collect information, plan, and communicate it has helped me to deliver my message and ideas to leaders and constituents in a way that makes them stand out in a crowded field," he explains.
While at FSU, Kneeld enjoyed taking part in as many activities the university offered as he could. His advice for current students is to do the same! "In the real world you don't get a meal plan, fitness center, seminars & lectures from renowned figures, sporting events, etc, all at little to no extra than your basic tuition, room, & board. Don't live in excess today and burden yourself with unnecessarily excessive debt when you're just starting out."
Kneeld is excited to see where his positions take him. "I am grateful to have the flexibility in both my work at Disney and for the city to do both. As I continue to grow in both roles, I think future success will be when I reach a point that I have to choose which one will be my focus. I hope to be successful enough in both fields that when the time comes, I am able to choose either because the future looks bright in both directions," he says. As for now, Kneeld and his husband are celebrating the adoption of their newborn son.