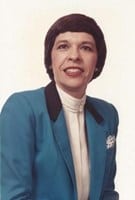 iSchool alumna Lorraine Summers died at age 70 on November 14th, 2017. Summers passed away while in Tallahassee, FL.
Summers grew up in Keystone Heights, Florida. She got her Bachelor's in history and library science, as well as a Master's in library science from Florida State University.
Summers also served on the FSU CCI Leadership Board for awhile and her husband William Summers was the Dean at the iSchool.
During her career, Summers received many honors and recognitions and served as a leader in the national, regional, and state library community.