When Juliana Gonzalez (B.S. ICT, '13) first moved out to California a little over 5 years ago, she did not know anyone in the San Diego area. One of the first things she thought of doing to make connections was to look up FSU alumni groups in the area, and to her surprise there happened to be one in Pacific Beach. Juliana drove an hour in each direction from her area in San Diego to Pacific Beach every game day just to meet up with fellow Seminoles, who Juliana now calls "my people!" Juliana quickly forged great friendships with the other alumni, and became highly involved in the San Diego Seminole Club, sitting as a Board Member for three years, the Vice President for last year, and now as the President!
"When I moved here and did not know anyone at first, I got so excited when I saw a license plate, holder, or bumper sticker around town that mentioned Florida," says Juliana. "Even if the school mentioned was a rival of Florida State, whether it be the University of Florida or the University of Miami, there was still a sense of "home" and an understanding that they knew what it was like to move across the country from everything and everyone you know!"
From these sightings of other Florida schools license plates and car decor, Juliana came up with the idea of a Rivalry Cornhole Event between all of the San Diego alumni clubs for the Florida colleges. After years of trying to have this idea come to life, the Rivalry Cornhole Event came to fruition this year and will continue to be an annual tradition between the Florida schools. 
"We all enjoyed meeting each other at the event, there was a fun sense of rivalry and competition, but the most important part was putting our school colors aside and getting to know each other. We look forward to continuing our "coast to coast" presence and networking with fellow alumni from the state of Florida."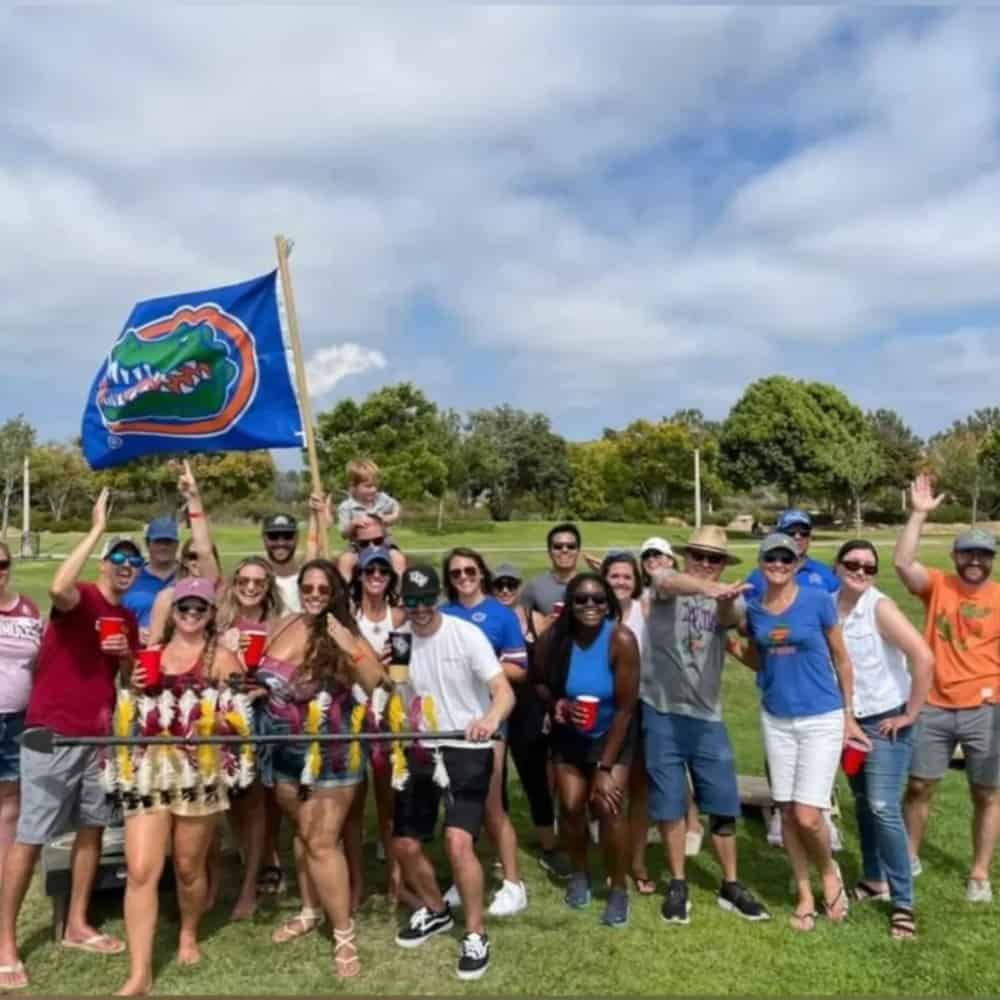 The San Diego Seminoles Club hosts many other events in addition to their Gameday watching parties for each football game, such as their annual Service Day Beach Cleanup, and other Seminole Club networking activities! They've put together events such as Bonfire on the Bay, a crawfish boil, group tickets to San Diego Gulls ice hockey games, and more! They also participate alongside the Los Angeles Seminole Club and Tri-State Seminole Club Chapter in providing scholarships for California high school graduates who are going to attend Florida State. This year the alumni groups were able to award 6 incoming freshmen a total of $10,000 in scholarships! 
If you are looking to find an alumni chapter or club, Juliana recommends utilizing the Alumni Association's website. To learn more about upcoming events and game watch parties for the San Diego Seminoles Club, you can find them on Instagram (@sdnoles) and on Facebook (San Diego Seminoles Club).
"Getting connected and involved with my FSU alumni group here in San Diego was one of the best decisions I could have ever made, aside from moving here! It has given me lifelong friendships who are now an extended family, as well as the best people to watch FSU games with. There is an immense amount of pride in representing FSU and carrying garnet & gold traditions in San Diego. My FSU school spirit runs strong, and I'm so proud and honored to represent the University as the club President and share my pride with the San Diego Seminoles. Go Noles!!"