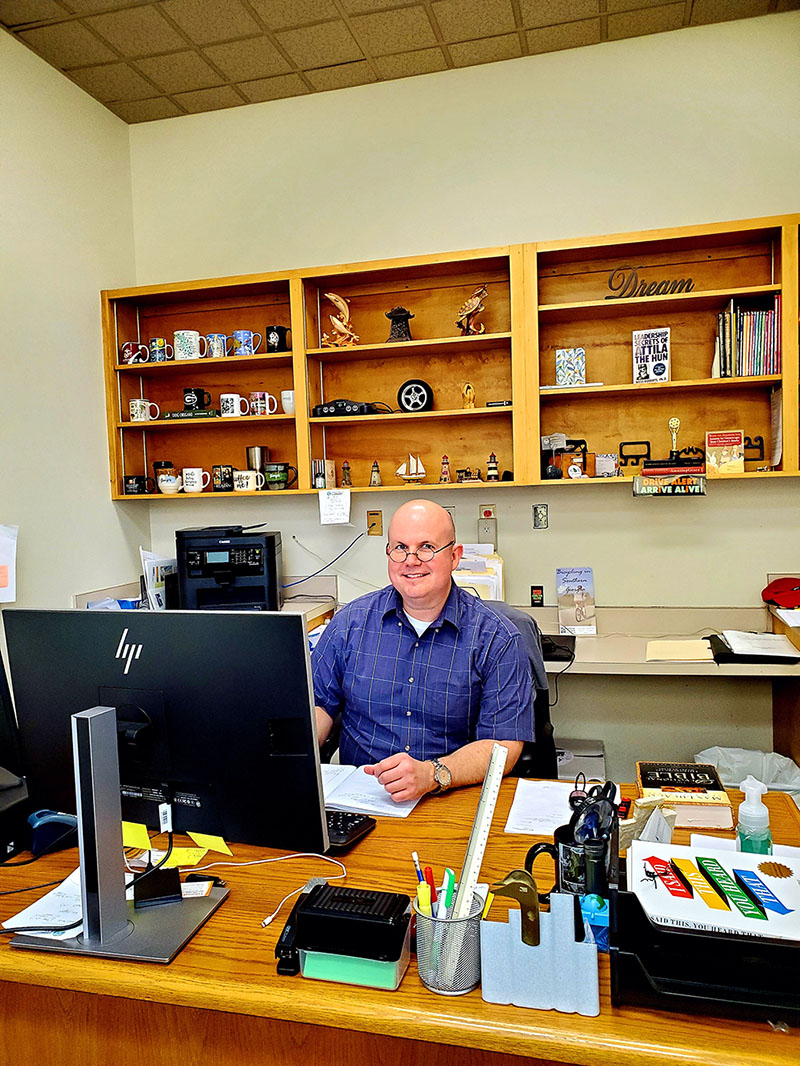 A two-time FSU School of Information (iSchool) alumnus, Rodney McElveen earned a Master of Science in Library and Information Studies in 2007 after receiving his bachelor's in Information Studies in 2004. But before coming to FSU, Rodney's love of working in a library ignited at the Tallahassee Community College Library.
Now the Library Director of Satilla Regional Library System in Douglas, Georgia, Rodney tells us about his passion for public service and how his experience at FSU helped him get to where he is today.
Tell us about your job. What does a typical day look like? 
Throughout my career, I have had the opportunity to learn a lot about the different departments that encompass a public library, and I have gained a lot of experience and skills that have greatly benefited me in my current role.  Honestly, there are no two days that are identical.  I am getting all kinds of experiences as a director of a smaller library system.  I have worked the service desks, run courier to branches, trimmed branches, cleaned bathrooms, shelved materials, written position descriptions, written policies, gone to funding agencies meetings, and celebrated wins.
What is your favorite thing about your job? 
Getting to make a difference!  I love how I take an idea and with the help of my staff bring it to fruition.
How did you become interested in this career and how did your education prepare you for it?
I was a returning student, and I went to TCC before I transferred over into FSU.  I started working in a library at the TCC Library, in 1999 and I worked there until 2004.  It was while working at the Tallahassee Community College Library that I was first exposed to working in a library.  I found that I enjoyed helping people, and that the library was a wonderful fit for me as a profession.  Then I was hired by the FSU Libraries in the Interlibrary Loan Department.  My first professional position was as a Reference Librarian at the Dougherty County Public Library in Albany, Georgia.  Then, I went back to Florida and I worked at the Maitland Public Library as the Assistant Public Services Librarian and then as the Electronic and Technologies Librarian.  I returned to Albany, Georgia to become the Head of Reference at the Central Library in the Dougherty County Public Library, and then I went to Henry County Public Library to become the Assistant Director of Collection Development.  I am currently the Director of the Satilla Regional Library System, which serves Coffee and Atkinson Counties.
What does the future look like for you? What's next? 
The future looks very good for me and for my system.  This year, I have lined up assistance from the Georgia Public Library Service (GPLS) to help with a strategic plan, logo and implementing a staff day.  This will all pave the way for the implementation of the larger vision of outreach into the communities that my system serves.  A rural public library cannot remain stagnant and remain inside of its four walls.  I believe that it is the purpose of a library to impact the community in a positive way, and be a partner to help uplift the community.  Building bridges with local agencies and the community as a whole to make everyone aware of what we have to offer and how we can assist everyone in our communities is the point of a library.  Also, I learned about usability while I was at FSU, and that is one of the biggest lessons that I utilize to this day.  Whenever, I consider a new service or plan I always think of how this will benefit our users.  I want my staff and I to strive to make our library as user friendly and accessible as we can with the resources and limitations in place.
One of the best pieces of advice that I have ever received about libraries, was to always put the patron/customer/guest first and think about making it easier for them.  If they have a positive experience then they will be more likely to return and give positive feedback to their friends.
My goal for my library system is to build it up with the help and support of my staff into a great library system.  It has been neglected and it has suffered under some poor leadership.  So, I am working on cleaning up legacy issues.  It has provided me with a chance to gain more experience than most first time directors.  Also, in a smaller system I have been able to get more involved with more things that would normally be segmented out to different departments.  My system maybe one of the smallest library systems in Georgia, with one of the smaller budgets, but I am working on building up the staff so that we can be one of the most creative, innovative and forward thinking library systems.
Is there anything else (personal or professional) that you'd like to share?
I have recently gotten into vinyl as a hobby.  It has been nice to go to a record store and acquire Jazz records, which is a nice relaxing hobby.  It is very important to have down time, and to remember that you have to recharge your batteries.  Also, it is important to invest into your staff.  It takes a great staff and a visionary director with a lot of hard work and effort to build a great library system.  Also, one of the most important parts of the equation is to get to know your customers/guests.  You have to get to know the people in your community, what they are into, what interests them and this drives your collection development and programming.  One final thing, as a director you have the added challenge of weighing out your decisions from every possible angle, including the perceptions of your Board, Funding Agencies and the Community.  You cannot neglect to consider the politics of your decisions.  You have to look at your decisions from the long term perspective, as in you have to build partnerships and relationships with your Boards, Funding Agencies, Communities, Staff, etc.