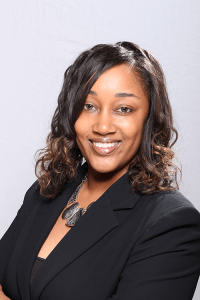 For the past 20 years, TaRhonda Harvey ('02 B.S. Information Studies) has been using her knowledge of the tech industry to help clients grow and improve their businesses. Harvey is the owner of Kolmio Global Inc. and the creator of the new mobile app, Bosses In Power. As a brand consultant, her goal is to help businesses best market themselves to customers. To do this, Harvey spends her days speaking with clients, designing websites, and marketing through social media. "When I'm not designing websites, I am creating digital products such as eBooks and planners and reviewing my current business processes to identify any improvements. I am always looking for ways to improve and thinking of new marketing strategies," she says.
Harvey was starting her career at the same time that commercial technology use was beginning to take off. "When I was first introduced to the IT industry, technology was changing the world and changing how people engaged with each other," she explains. After college, she began analyzing computer systems and gathering requirements from customers on how to make software or tools more efficient. This helped Harvey realize how important technology and websites are for small businesses. "I remembered how I would go on a person's website and judge them based on how it looked. I either wanted to utilize their services or not," she says. After spending years playing the role of client for developers, Harvey decided to take her expertise and help business owners design their own online presence.
Now, she produces digital products such as eBooks, webinars, courses, and workshops for small business owners. Harvey plans on expanding to include one-on-one business programs and more speaking engagements. "I want to share my business knowledge and inspirational messages to educate those who need the proper guidance and reassurance," she says. You can view all of her services here.
She also created the app, Bosses In Power, designed to help small businesses market themselves and increase their brand value. Within the app is a directory of small businesses in various U.S. states filtered by the services they offer. The app is now available on the App Store and Google Play. If you are a business owner or an owner of a nonprofit and would like to advertise your business online and in the mobile app, visit www.bossesinpower.com/advertise.