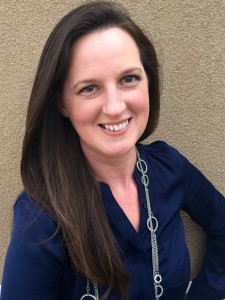 When Cathy Seeds graduated from FSU with a degree in Literature (B.A., '08), she wasn't sure exactly what she wanted to do. However, her life-long love for reading and desire to help people led her to earn her MLIS degree (M.S., '10). Today, she serves as the library media specialist of the Florida Department of Education.
What exactly does a library media specialist do? Seeds says that there is no typical day in her job – but that's what she loves most about it. Whether she's presenting to a group of school media specialists on standards in information literacy or serving on committees that promote literacy and reading for students in grades 3-8, her job keeps her on her feet all day. Her days are very full but also very rewarding.
While at FSU, Seeds took a History of Reading class that encouraged her to think about and appreciate how integral reading and writing are to the development of students and non-students alike. As technology continues to bring improvements to how we learn and disseminate knowledge, Seeds is excited to see many more interesting improvements to come.
She says, "I am grateful for the opportunity to be in a position where I may see these changes and help students navigate these changes in a positive way."
To Seeds, the most rewarding part of the position is the opportunity to be part of a system that ensures that the best possible learning materials are available to Florida students. She also enjoys the fact that she can encourage reading initiatives and support other media specialists throughout Florida.
Seeds could not be more proud of her education at Florida State. She elaborates, "I am a long-time Seminole and could not be more proud of my school and the amazing education I received while there. Florida State has a great reputation for educational excellence and is renowned for its MLIS program."
Considering her lifelong love for FSU, it's no surprise that Seeds is considering going for her PhD here in the future. Whatever she's doing five years from now, she knows that she will be continuing to promote a love for reading and learning here in Tallahassee – while cheering on the Noles, of course.
For more information about the Literature major at FSU, click here. Details about the MLIS program can be seen here.