School of Communication alumna Elizabeth "Ely" Rosario recently published her 3rd book, "100 Things to Do in Tallahassee Before You Die."
Rosario came to Tallahassee from Puerto Rico. She realized that students had a tendency of staying within the two-mile radius of campus. After she graduated in 2000, Rosario stayed in Tallahassee to work. She is heavily involved in the Tallahassee community, and as a result, Reedy Press reached out to her and suggested that she write a book about all the things the city has to offer. In 2016, she curated a list of different activities to do in Tallahassee and used it as a foundation for her book.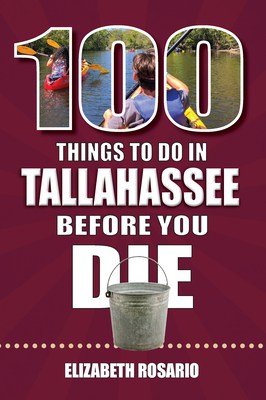 "This started as a challenge because people are always saying there is nothing to do here. I told my friend 'I bet you I can find 365 things to do here' and so I did. It is a treasure hunt; you have to keep looking. The same experiences you can get somewhere else, you can find here for a quarter of the price, if not free," Rosario told CCI.
The book is broken down into five categories:
Food and Drinks
Music and Entertainment
Sports and Recreation
Culture and History
Shopping and Fashion
Her favorite section of her book is Sports and Recreation. One of the main observations Rosario made was that students were not inclined to explore anywhere outside campus. As someone who has ran and biked to work and walks anywhere she can, Rosario hopes she can inspire students to take risks and try to bond with the city.
While this book is targeted at all Tallahassee residents, one of Rosario's main goals is to motivate students to get out of their comfort zone. She took note of students gravitating towards what they are used to, and she took it upon herself to show them that adjusting to what your surroundings have to offer leads to creating new experiences.
Rosario's book is an ongoing project. She has created a personal spreadsheet that includes activities for every weekday and weekend for 52 weeks out of the year. From nature trails to different festivals, she continues to discover different activities in Tallahassee. Rosario hopes to continue her ways to brand the Tallahassee community and continue to help people find its hidden treasures.