Florida State University's undergraduate Information Technology (IT) Leadership class has a tradition of hosting 4 to 6 alumni each semester as part of an effort to introduce students to potential career options. However, due to travel restrictions caused by COVID-19, Ebe Randeree, Associate Dean of the College of Communication and Information (CCI), transformed the class from in-person presentations to virtual discussions with alumni from all across the nation, coining it as the Alumni Leadership Series.
Map of Alumni Guest Speakers' Locations
The initiative was started in the Fall 2020 semester as a way for alumni to share industry knowledge, recruitment strategies, and information about leadership programs with students. This semester, the Leadership Series expanded to include more alumni speakers from across the United States working in various career fields, allowing students to view a variety of career options.
When asked about the Leadership Series, students only had positive things to say.
"This semester's leadership series was a great opportunity to connect with leaders at various companies in the US," said Information Communication Technology (ICT) student Brandon Tottle. "I really enjoyed learning how our speakers succeed in a remote workspace."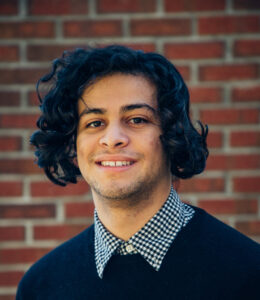 Oliver Veras, an IT student in the class, boasted about his experience, saying, "I really enjoyed how diverse the cast of speakers was, not just in terms of who they were and where they came from, but also in the actual roles that they filled within their companies. It didn't really matter what your career aspirations were; Ebe invited a speaker that you could relate to and gain some insight from."
ICT student Jenna Ward learned more about potential careers through the series. She explained that "when people think of IT jobs, they might think of tech support or web development or people just sitting in front of a computer from 9 to 5 every weekday, but there is so much more beyond that. There is a job in IT and communications for every type of person and there is plenty of creativity and collaboration involved."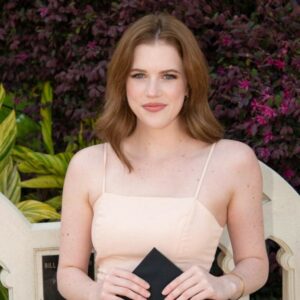 Sydney Sawyer, an ICT student gained some clarity from the Leadership Series. "Before this series, looking through job postings for 'entry-level' positions in my desired field was intimidating, but hearing graduated students speak about their experiences in the workforce made my aspirations feel obtainable," said Sawyer. "It was also comforting to hear that employers do not expect us to know everything when we are hired. I loved how the speakers invited showcased a variety of careers throughout the semester. It was interesting to see how many career options there are for someone with a degree in IT or ICT."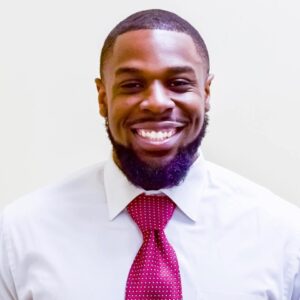 "I love the speaker series because I got to ask recent graduates real questions about real topics," said ICT student David Williams. "That level of access and honesty isn't commonly found. The speaker series definitely helped me get a job, and it's helping me in my current role. "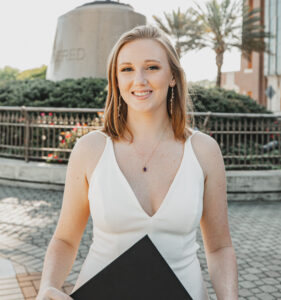 For ICT student Shannon McWaters, the Leadership Series was instrumental in her starting her career. After reaching out to an employer who spoke as part of the Alumni Leadership Series, McWaters secured a position at Brandt Information Services after graduation.
"I would say the Leadership Series was extremely helpful in gaining insight into the employment process from an employer's perspective," said McWaters. "I had the opportunity to speak with multiple employees and recent graduates about what was important and how to stand out in the employment process."
Thank you to all the alumni who participated in the Spring 2021 Alumni Leadership Series:
| | | | |
| --- | --- | --- | --- |
| Atlanta, GA | Courtney Lisenbee | Manager, Product Owner | Aptean |
| Atlanta, GA | Rhiannon Jacobson | Software Developer | GM |
| Burbank, CA | Nicole Dial | School Relations & Outreach | Walt Disney |
| Chandler, AZ | Russ Hill Jr | IT Project Manager | GM |
| Charlotte, NC | Cody Bunnell | Lead National Development Recruiter | TEKSystems |
| Chicago, IL | Brian Pearson | Sr. Enterprise Sales Development Representative | Okta, Inc. |
| Dallas, TX | Stephanie Hernandez | Manager, Customer Engineers | Microsoft |
| Denver, CO | Sydney Dell | Digital Drop Ship Specialist | Finish Line |
| Groveland, CA | Sammie Rice | Park Ranger | Yosemite Park |
| Los Angeles, CA | William Walker | Music Artist | Self Employed |
| New York, NY | Brittany Holland | Senior Manager, Growth & Media | NBA |
| Orlando, FL | Mikayla Owen | Configuration Analyst | Lockheed Martin |
| San Diego, CA | Gilberto Parada | Sr Product Designer | Solar Turbines |
| San Jose, CA | Heather Larson | Technical Operations Manager | Facebook |
| Seattle, WA | Gerard Massey | Systems Engineer | Bezos Academy |
| Tallahassee, FL | Greg Dugger | Director of Software Development | Brandt Information Systems |
| Tampa, FL | Chris Cyrille | Data Visualization Specialist | Coast Dental |
| Tampa, FL | Julia Zimmerman | Blogger/Website Editor | Excite Medical |
| Tampa, FL | Brandon Tirado | Cyber Security Analyst | Reliaquest |
| Washington DC | Connor Griffin | IT Specialist | EPA |