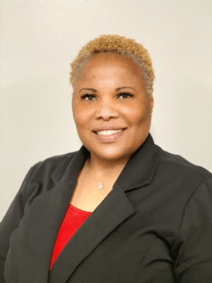 Three-time alumna Alyse Jordan was recently published in the Journal of Academic Librarianship. Her article, An Examination of Formal Mentoring, was a quantitative study examining mentor relationships in librarianship. "The study's participants were former mentees from 2010 to 2015 in Library Leadership and Management Association mentoring program," Jordan explains. "The findings of the study focused on the dynamics of the mentor-mentee relationships, provided a contribution to formal mentoring literature, and specifically highlighted formal mentorships in librarianship."
Jordan had her own experience as a mentor through the Mandel Washington Fellows program within the School of Public Affairs in the Watts College of Public Service and Community Solutions. In the program, she served as a collaborator/mentor for an African fellow. "In the role of collaborator, I provided local resources in the fellow's area of concentration for several hours a week for the six-week program; and served as a host for a weekend stay at my home," she explains. The fellow she mentored, Maria, was a secondary school teacher from Namibia. During the program, Jordan facilitated Maria's professional interests in meeting an English teacher and touring libraries.
While at FSU, Jordan earned a B.S. in Political Science ('96), an M.S. in Library & Information Studies ('97), a Certificate in School Library Media Specialist, a Specialist in Education in Library and Information Studies, and an M.A. in Arts in Religion. "FSU's College of Communication and Information laid the foundation for my future degrees and work experience," she says. Since graduating, Jordan has gained 22 years of library and higher education experience in assessment, teaching, research, collection development, instructional technologies, and supervision in public services in academic institutions. She has participated in leadership training from the Inaugural American Library Association Emerging Leaders Institute and Harvard Institutes for Higher Education: Leadership Institute for Academic Librarians.
Jordan currently works as an Associate Librarian for the Arizona State University Library in Tempe, Arizona. Her next project is to integrate an oral history project that addresses the dress conventions of women in the Church of God in Christ (COGIC) into a digital humanities tool. She will be presenting a paper discussing these dress conventions at the Southwest Popular/American Culture Association 41st Annual Conference.