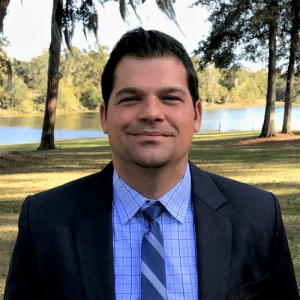 William R. Wilson V ('07, M.S. Marketing Communications) is the founder and CEO of the Captiveyes Group and acting President of Bloom Intelligence in St. Petersburg, Florida, and Captiveyes Advertising in Tallahassee, Florida. Bloom Intelligence provides an enterprise WiFi marketing & customer intelligence hub to help multi-unit restaurateurs and retailers measure customer behavior at their locations and build large, clean databases with detailed customer profiles. This gives brick-and-mortar operators the ability to remarket to their customers based upon actual behavior – even if their customer only logs in once to their WiFi.
"I started my first company in 2006, Captiveyes Advertising, while in FSU's Integrated Marketing Communication Master's program," says Wilson. "FSU's Master's in Integrated Marketing gave me a solid foundation to understand the complexities and importance of implementing an integrated approach to marketing that has a measurable and tangible impact on a business's bottom line." Wilson takes great pride in providing a competitive advantage to Bloom's customers with its growth tools that were once only available to online companies.
The restaurant and retail industry is extremely competitive with small margins. Retail marketing and restaurant marketing is difficult without accurate, comprehensive, and actionable customer data. Wilson's platform uses guest WiFi access points, big data, online and social data, internet of things (IOT) and location analytics to monitor, report, and react to customer behavior in real time. These tools allow Bloom's clients to personalize their customers' experiences and measure all campaign performance all the way down to a person walking back into their locations.
"The principles I was taught at FSU in the IMC program have given me the foundational knowledge to grow large companies and build large teams," Wilson explains. "The FSU alumni network has presented many opportunities that I, quite frankly, would never have received if I did not attend FSU. Go Noles!"
Bloom Intelligence has grown nationwide and internationally, and Wilson is considered a thought leader in big data, IOT, and integrated marketing.