Hosted by the College of Communication & Information, the Innovation Hub, Florida State University Career Center, and in partnership with NextEra Energy, the Innovation Hub hosted its first 24-hour hackathon, "Guardians of the Grid."
NextEra Energy is a leading clean energy company headquartered in Juno Beach, Florida. NextEra Energy owns Florida Power & Light (FPL) Company, which is America's largest electric utility that sells more power than any other utility, providing clean, affordable, reliable electricity to approximately 5.8 million customer accounts, or more than 12 million people across Florida. NextEra Energy also owns a competitive clean energy business, NextEra Energy Resources, LLC, which, together with its affiliated entities, is the world's largest generator of renewable energy from the wind and sun and a world leader in battery storage.
 "At NextEra Energy we are committed to inspiring the next generation of technology leaders and this hackathon is a direct extension. It helped introduce our culture of innovation and continuous improvement to highly skilled students who possess the knowledge, passion and enthusiasm to be the next generation of technology leaders"
The hackathon challenged students to use technology and build new techniques to help get the power back on safely and as quickly as possible during hurricane season and to improve how we communicate with customers. Students employed case studies, used background information on storm grids, and reached out to industry experts as they advanced in the design process.
At the end of the 24-hour event, participants pitched their ideas to a panel of industry professionals across corporate divisions within NextEra Energy, and the winners received over $4,000 in prizes, collectively.
Betty Phipps was part of the first-place team and said that the most difficult part of the hackathon was brainstorming an innovative idea as NextEra Energy was looking for a well-thought-out concept that was diligently backed up with a lot of effort. 
"We used a significant amount of time to think of an idea to improve NextEra Energy's methods for restoring power during storms- making them more efficient, safer, and cost effective," says Phipps. "It was a challenge to devise an original concept while ensuring its practicality and viability."
The freshman shared with CCI that this opportunity opened her eyes to various fields of interest, saying "Learning about NextEra Energy sparked some curiosity within renewable energy initiatives and topics about AI, Machine Learning, and IT."
IT Senior Orion Qualls participated in the event and said that "Attending NextEra Energy's Hackathon was a remarkable experience. It provided a deep dive into Florida's power generation and the broader IT world, all in a highly engaging and informative setting. I would love to participate in an event like this again." 
Kristi Baldwin, Executive Director of FPL Information Technology was also excited by the event; she said that "This was a great opportunity to share the NextEra Energy mission and work with FSU students to uncover innovative ways to leverage advanced technology during a storm event. The teams delivered remarkable solutions focused on uncovering new ways to help communicate with our customers and make our grid more resilient. At NextEra Energy we embrace this innovative spirit and have exciting job opportunities, including internships and our Ignite Digital Leadership program."
The Career Center acted as the event coordinator with Jamie Butler acting as point person. "Our first Hackathon event was a successful campus collaboration, engaging 50 student participants across a wide variety of majors, backgrounds, and experience levels. I was so impressed with the way every student fully embraced their creative, innovative sides, even though most had never participated in a Hackathon before. By taking the initiative to seek hands-on experiences outside the classroom, these students made meaningful connections and developed many transferable skills that will help them wherever their career journeys take them!"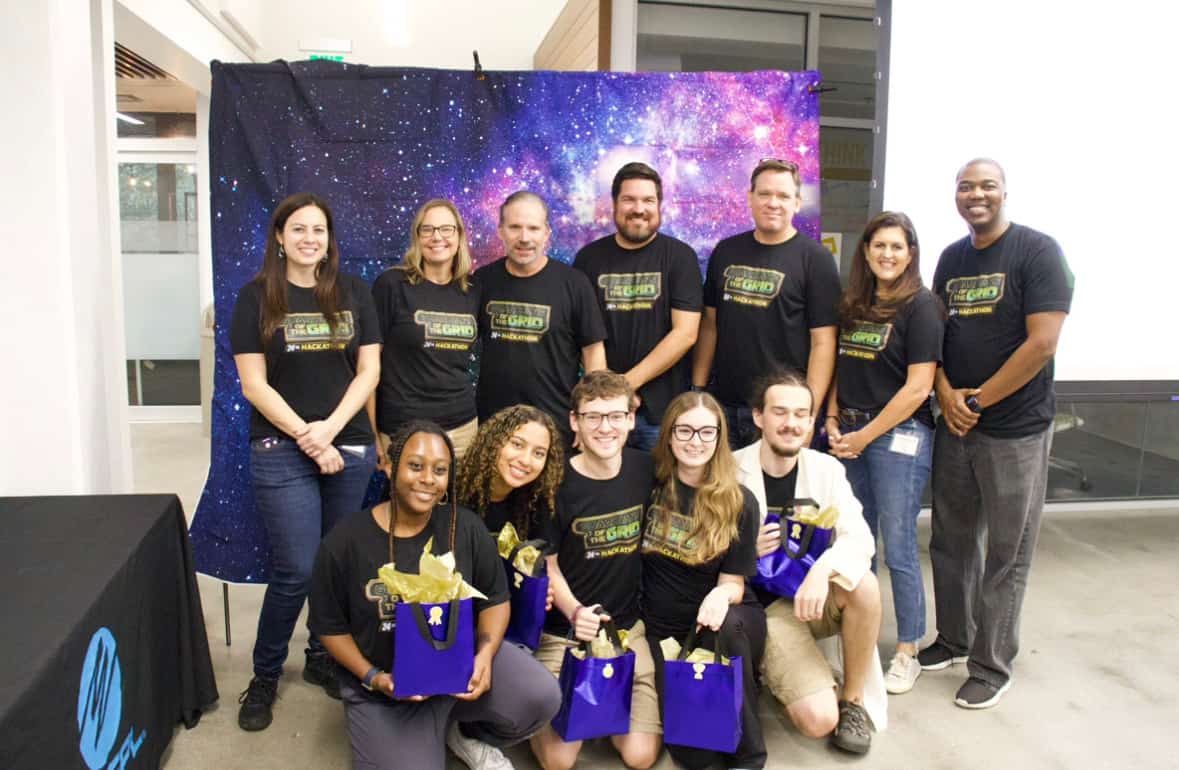 The Innovation Hub was an active partner in the event planning and execution. Wes Dorce, Assistant Director of Experiential Learning, shared, "With these types of engagements and opportunities, we jump into deep and strategic planning to ensure that students are gaining the absolute most from their experiences and skill building. Interacting and hearing from the NextEra experts allowed students to empathize with individuals in need of impactful solutions. Students used Design Thinking principles to research the problems, jump into intense team collaboration and provide innovative and feasible implementations. All of the partners of the event were utterly blown away by what these students were developing! Nothing short of amazing!" 
Associate Dean Ebe Randeree has met a few times with FPL in helping to connect students to opportunities in Florida.  Randeree said, "Working on talent pipelines and showing our students tech careers in Florida is something that is important for the college; this effort will add to the other ways we are working to build relationships between FPL and our IT program." 
The College of Communication & Information looks forward to continually working with NextEra Energy to provide students with opportunities such as the 24-hour hackathon.