On April 22, the College of Communication and Information hosted the second annual Qualitative Research Poster Symposium. The goal of the event was to highlight fascinating research and work done by graduate students within the college. The event was headed by Symposium Chair, Laura-Kate Huse; Faculty Advisor, Jessica Wendorf Muhamad; and Planning Committee, Nivia Escobar Salazar.
"As a fellow graduate student, I know the importance of creating and presenting independent research in an environment where feedback is the focus. The Symposium provides an opportunity for students to get feedback from our talented faculty, and to practice presenting in an educational environment prior to going to conferences," says Huse.
See a list of the event's participants below:
"In the FSU Circus Community, Culture, Access, and Processing All Play Roles in Environmentally Sustainable Behaviors."
Celina A. Dezzuto
"Enhancing the Well-Being of Senior Citizens Through Video Games"
Nivia Escobar Salazar
"Investigating the Use and Perceptions of Product Labels and Claims Amongst Grocery Store Employees"
Christopher Garcia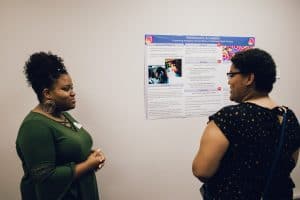 "The Way Native Speakers Perceive the Work of Non-Native Journalists: Examining the Effect of Accent on Media Personnel's Credibility"
Daniella Horvath
"Communicating Science: Research Investigators' Attitudes About Public Information & Outreach"
Tracy A. Ippolito
"Frames Used in U.S. Newspapers to Represent Female Marriage Migrants Facing Domestic Abuse"
Svitlana Jaroszynski
"Intersectionality & Instagram: Examining Instagram and its Effects on Millennial Black Women"
Dana Matthews
"Adopt or Shop? A Quantitative Study of Dog Owners' Acquisition Preferences"
Kayleigh Murdock
"A Monumental Divide: The Framing of Bears Ears National Monument in Politicized News"
Michelle Presley
"Supporting STEM Interest in High School Students: An Exploratory Case Study"
Samantha Reaves
"The Mechanisms Consumers Use to Maintain a Positive Self-Concept: Evidence from Facebook Posts About the 2018 H&M Boycott"
Olivia Stacie-Ann C. Bravo
"Marijuana Media: Rhetorical Changes Observed in the Messages of U.S. Anti-Marijuana Films Over the 20th Century"
Jennifer Steere-Semidey
"Attitude Towards Gender Equality Among Chinese International Students in the U.S."
Meng Tian
"Present Situation of Chinese Young Females' PSR Behavior and How Do They Perceive It"
Geyi Wang
"Impacts of Extreme Weather Media Exposure with Displaced Hurricane Maria Survivors"
Katelyn White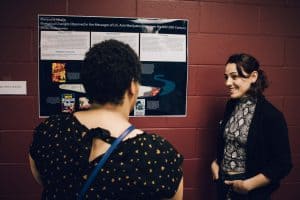 "Using Xin Shi Dan Dan as an Example to Study the Reason why Bilingual Foreign Influencers are Popular in China"
Peiheng Xie
"How Dare They Smoke: The Cognitive Dissonance Reduction Strategies Used Among College Smokers"
Wenzhe (Vincent) Yan
"A Qualitative Study of the Concerns and Career Aspirations of Panamanian International Students"
Stephanie Zuniga
The Symposium would like to thank Dr. Proffitt, Dr. McDowell, and Dr. Chapa, who were judges for the event. The winners were:
Top Poster Design: Kayleigh Murdock
Top Presenter: Svitlana Jarosynski
Second Place Award: Daniella Horvath
First Place Award: Olivia Stacie-Ann C. Bravo
To see more photos from the event, click here.