On October 4, 2022, the College of Communication and Information partnered with the Florida Technology Council (FTC) and the TalTech Alliance to host its annual technology conference. This year's focus was "Tallahassee: A Data Driven City".  The conference attracted over 225 attendees that included technology companies, students from all three local educational institutions (FAMU, FSU, and TCC), and local technology employees.
For CCI students in the IT program, the event provided opportunities to connect with local technology businesses at a career fair, network with senior leadership, and learn from industry experts. The event was open to all students from FSU, FAMU, and TCC, and included a lunch panel which showcased ten local student startups.
"The Tallahassee tech community is vast and only growing, I can only imagine how it will look in the future," said CCI student Ezekiel Faulknor.  Ezekiel was part of a team from the College's IT Leadership class that was assisting with the event; other members included Carey Carpenter, Demi Harms, and Linda Fontanez).
Topics at the conference included:
Resources in our community (TalTech Alliance, Florida Technology Council, Domi Station, LaunchTally, Career Source Capital Region, Tallahassee Downtown Improvement Authority, and the Tallahassee Chamber)
State agencies' data needs and usage, as well as the procurement process
Introductions to twelve local technology businesses
Female tech startups (a panel featuring local female business owners)
Recruiting tech talent (a discussion from local recruiters)
Preparing tech talent (a discussion with local educational institutions)
Starting a tech company (a panel of "growing" startups)
According to CCI Associate Dean Ebe Randeree, "It is no surprise that many of our local tech businesses are focused on data: capturing data, securing data, visualizing data, and forecasting using data – we have many data driven companies that work in various industries in Tallahassee that support state government."
All eighteen tech companies that attended the career fair were hiring and looking for talent. A common theme that emerged from panelists is the industry need for more developers, business analysts, cybersecurity analysts, and information professionals.
CCI student Aya Saludo was excited at the opportunity to network.  She said "The TalTech Conference was an amazing opportunity to learn and get to know local companies. I got to know not only companies, but the people at personal levels and form new and meaningful connections."
The event was hosted by the College in partnership with the Florida Technology Council (FTC) and TalTech Alliance . Pavlov media, TekSystems, and Ruvos were sponsors that also helped to support the event. The conference was supported by the CCI Communication Team, students from the IT Leadership class, and students from the technology leadership organization, STARS Alliance.
The Florida Technology Council (FTC) is a proud supporter of TalTech. This conference provided an opportunity to remind students that Florida ranked second among all states in technology job growth last year. FTC CEO James Taylor presented at the conference and remarked that "many of these jobs are found in Tallahassee's thriving tech industry as well as our state agencies. This places FSU students in a unique position to connect and build relations with future employers right in their own backyard. With a cost of living 4% lower in Tallahassee than both the state and national average, 233 sunny days annually, and an average age of 27, it's difficult to beat Tallahassee."
The Board Chair for TalTech this year is Robert Blacklidge. After speaking at the conference and hosting a session on startups, he reflected that "TalTech's annual conference is at the forefront of highlighting the innovation in Tallahassee and aligns with Domi's mission to create a diverse group of entrepreneurs from diverse industries. Highlighting the impact of technological advances not only inspires innovation but connects our communities together during one amazing event."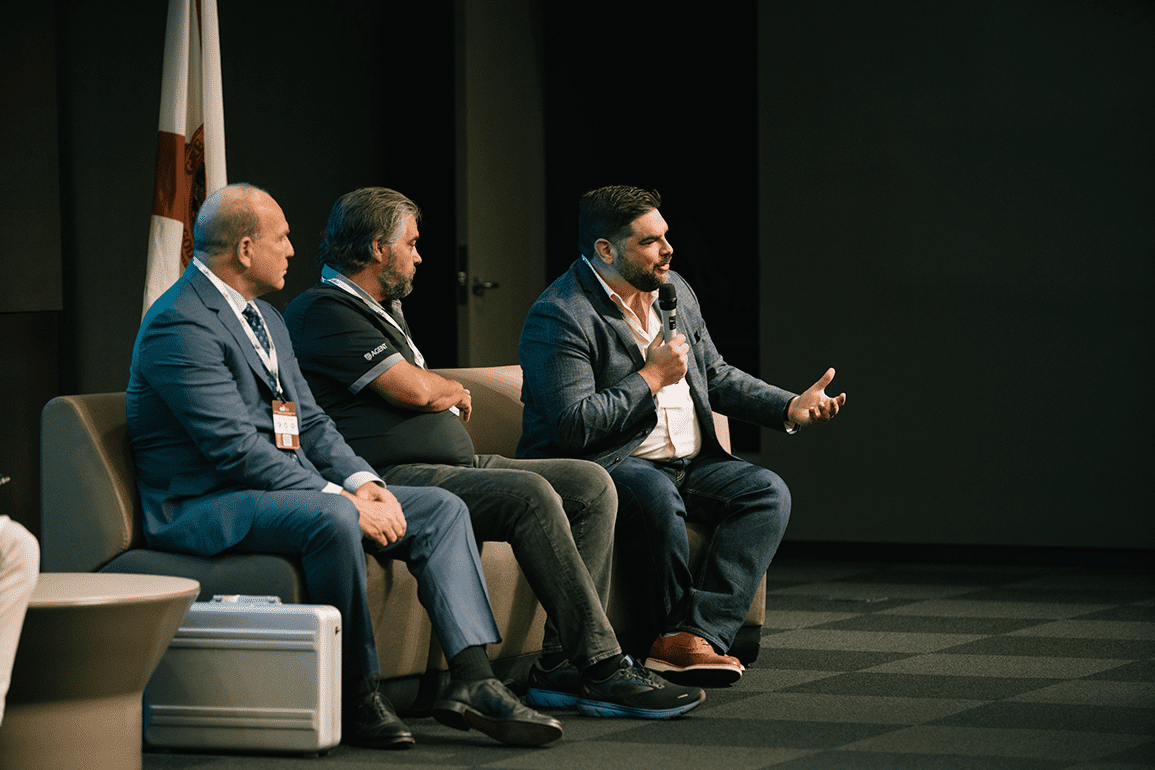 Ruvos CEO Eddie Gonzalez Loumiet encapsulated the event when he said "There is no doubt that Tallahassee is the Magnetic Capital of the World, but the successful TalTech Conference reminded the community that we are also the Data Capital of the World – from government data to healthcare data – we are sitting on the 'new oil'. There is something in the air and events like these bring our ecosystem together, putting our technology companies and organizations on the worldwide map."
Several student volunteers were assisting with the event; they included Andy PannelliJennifer Sterling, Aya Saludo, Efner Pierre, Carter Rineberg, Maggie Martin-McKinnie, Madison Dodd, Olivia Kennedy, Lauren Scala and Emma Roberts.
To see more photos from the event, click here.