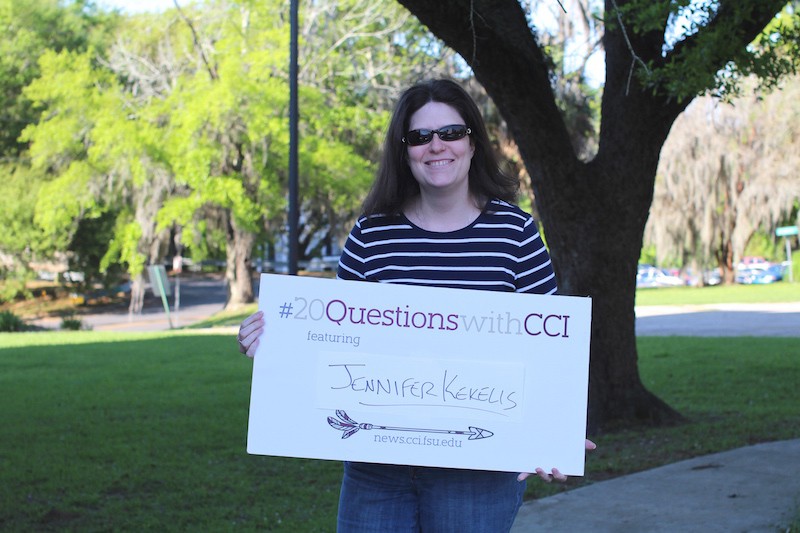 What was your first job?
My first job was working in my parents' restaurant which was a sub sandwich shop on Panama City Beach.
If you were to write a personal memoir, what would you name it? 
"Bossiness". See what I did there? Not necessarily because I'm bossy, but because it would be all about me…aka The Boss, which was a nickname given to me when I was a kid.
Where did you grow up? 
Panama City, Florida
What is your favorite class you've taught?
Haven't taught any classes, but I did teach a science and math program back home for a kids organization called Girls Inc. That was awesome.
What is your favorite place to grab dinner in Tallahassee?
Depends on my mood…I have several favorites.
Best Thai is Reagnthai. Best Chinese is Ming Tree. Kool Beanz is always solid. And virtually anywhere that serves fried chicken (except KFC). Can you tell I like local places?
What are your hobbies outside of work? 
Cooking! There are others, but that's the one I love most.
Have you always wanted to teach? 
Well, I don't teach, but there was a time where I really saw myself as a teacher. Maybe someday.
What is your favorite place you've traveled to or where would you like to go?
My favorite was a trip to Italy with my husband. It was absolutely beautiful. We'd love to go to France and Ireland, though.
How many football games have you attended? 
Do people actually count those? More than 1, less than 100.
Proudest career/life moment?
Marrying and starting a life with my husband, Cole. (Awwwwwwwwwwwww)
What's your favorite band?  
Too many to choose! I love 80's music, but I'd say I have eclectic musical tastes.
What is the best piece of advice you've ever received? 
At the end of the day, you're the one who has to live with the choices you've made, so always choose wisely.
If money were no object, how would you spend your days? 
Cooking for my friends and family in my Italian villa in between travelling the world.
What is your favorite book and why? 
Once again, too many to choose, but one I find myself perennially drawn to rereading is John Grisham's "A Painted House". It's a good story.
If you could be famous for something, what would it be? 
Finding the cure to cancer.
What Jeopardy category could you clear, no problem? 
A category related to the Golden Girls tv show. 🙂
Do you have any pets? 
Yeppers. I have an adorable chocolate brown miniature poodle named Maggie.
When did you start working at Florida State University? 
August, 2005.
What was the last movie you saw in theaters?
Tarzan.
What is the best part about your job? 
The people with whom I work! They're probably the best team I've ever worked with and make my job so much easier.