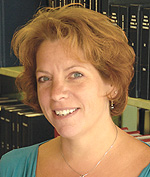 In May, iSchool associate professor and assistant dean Marcia Mardis attended EduTECH in Brisbane, Australia, where she delivered an international keynote, a master class, and served on an executive panel.
Mardis has long been a player in school librarianship and digital learning, which is why she enjoyed the EduTECH conference so much.  In her words, EduTECH is "unlike any conference we have in the US. It's a unique convergence of school librarians, librarians, school supervisors, teachers, technology teachers and financial representatives from schools in one conference. Each group has its own track, but the common events help to build broad scale buy-in for educational resources."
In her keynote address "Designing a (Socio-)Material World: Curating "Stuff" for Empathetic, Responsive, and Extensible Teaching and Learning," Mardis talked about using activity streams  with open educational resources. True to the name, activity streams capture the successes and failures throughout the learning process to better understand how students interact with digital curriculum.
In addition to her keynote, Mardis taught a master class entitled "Your Library is a Lean Start Up!" She talked about using the Business Model Canvas, often used as a planning tool for technology start ups, for library planning and assessment. Mardis is no stranger to entrepreneurship and innovation – she has gone through NSF I-Corps, which teaches design-based research that examines the fit between a product and its market using a constant cycle of customer-led adjustment. She is the project lead on Web2MARC, an automatic description generating tool, which is in the process of being commercialized.
During EduTECH, Pearson Australia asked Mardis to participate in pop-up interviews with local students. In a last minute flurry of plans, Mardis was asked to speak at Pearson's networking event as an executive expert on entrepreneurship in education. She joined a speaker lineup that included a 16 year old technology entrepreneur and a member of the Australian Ministry of Education.
More on Marcia Mardis' research and her Web2MARC project can be found here.