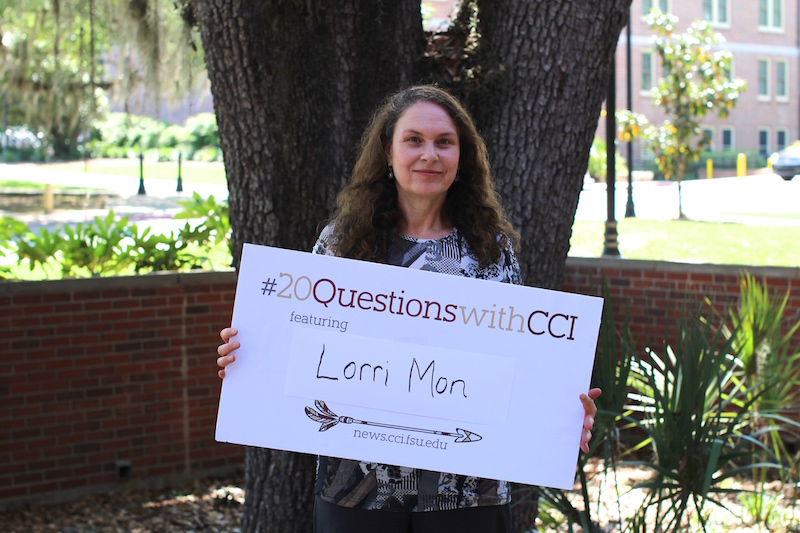 What was your first job?
I had a newspaper delivery route as a kid.
If you were to write a personal memoir, what would you name it?
Keep It Moving! My Life on the Road
Where did you grow up?
Moving around a lot, but mainly Northern California (San Francisco Bay Area)
What is your favorite class you've taught?
5603 Intro to Information Services (the Reference class) – so much fun! — but I also love my Gov Docs class (5661) and Social Media Management (5385).  I taught a Virtual Environments class that also was really interesting, we did hands-on chat reference and SMS-text messaging reference, and experimented with virtual worlds.
What is your favorite place to grab dinner in Tallahassee?
Mayuri (Indian) is new favorite.
What are your hobbies outside of work?
Running and frisbee with my dog, cooking, and travel – my most recent trips out of the country were to Berlin (Germany), Montreal (Canada), and Jerusalem (Israel) and Petra (Jordan)
Have you always wanted to teach?
As a kid I wanted to be a writer and investigative journalist, but I enjoyed my career as a reference librarian – it was a tough choice leaving that path, but I really wanted to teach the next generation.
What is your favorite place you've traveled to or where would you like to go?
Switzerland – I only visited briefly in Lucerne, but would love to go back to see more of that country.
How many football games have you attended?
None since 49ers Super Bowl homecoming day in San Francisco – I'm not a big fan of crowds!
Proudest career/life moment?
Being nominated for teaching awards by my students!  I'm also very proud of helping five of my 5661 Gov Docs students to be published in the ALA journal DttP: Documents to the People –Eva Ball is the latest MLIS graduate student whose article was recently accepted by DttP and will be coming out soon!
What's your favorite band?
Right now it's between Postmodern Jukebox and the Alabama Shakes.
What is the best piece of advice you've ever received?
You miss 100% of the shots you never take.
If money were no object, how would you spend your days?
Probably writing, reading, traveling, and gardening.
What is your favorite book and why?
What, just one?  I, Robot by Isaac Asimov, for the Three Laws of Robotics.  Nightfall is hands-down my favorite short story.
If you could be famous for something, what would it be?
If I could pick any way at all to be famous? I'd give away a fortune to fund public libraries nationwide —  pay it forward so the next generation could have the opportunities I had to learn, apply for jobs, access computers and Internet, and find information.
What Jeopardy category could you clear, no problem?
Classic science fiction, or Star Trek trivia.
Do you have any pets?
A dog named Lily (part-Boxer mutt, from a shelter).
When did you start working at Florida State University?
July 2006.
What was the last movie you saw in theaters?
Avatar in Imax 3D.
What is the best part about your job?
Helping people achieve their goals, and hearing back about the latest jobs and achievements of my students.