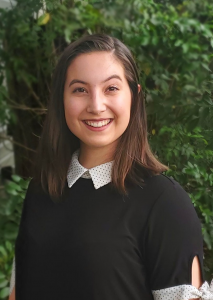 CCI graduate student Briana Acevedo (pictured left), who is pursuing a master's degree in Speech-Language Pathology, was awarded by the American Speech-Language-Hearing Association (ASHA) with a Students Preparing for Academic-Research Careers (SPARC) award. She was given the award of $1,000 in support of her master's thesis. 
"I am confident that my master's thesis coupled with the Students Preparing for Academic and Research Careers award will successfully prepare me for a doctoral program and an eventual career as an academic researcher," Acevedo says. 
The SPARC award is meant to inspire student interest in pursuing a research doctorate and a career as a faculty researcher in communication sciences and disorders. This award provides unique opportunities such as offering financial resources towards mentorship and research, various networking opportunities, and formal recognition on the ASHA website. 
Acevedo's thesis project supported by the award aims to teach parents of children with hearing loss about emergent literacy techniques to promote language during shared storybook reading. FSU School of Communication Science and Disorders associate professor Kelly Farquharson has assisted in leading the project to success, as well as the other faculty members of Avecedo's thesis committee, Linda Sasser and Kimberlee Crass. Acevedo and her committee will evaluate how participating parents implement these techniques following training sessions.
"This is an incredible opportunity and I feel honored to be a part of the chosen few from many qualified candidates," says Acevedo.