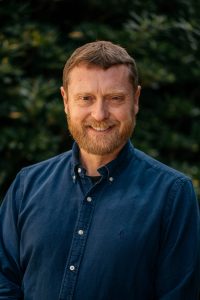 Each year, Florida State's Office of the Provost honors faculty members that have gone above and beyond in undergraduate and graduate teaching through the University Teaching Awards. The student-oriented awards are based on student and alumni nominations. This year, Dr. Paul Marty ('02, Ph.D. University of Illinois at Urbana-Champaign) was the recipient of the Undergraduate Teaching Award for the College of Communication and Information.
Dr. Marty is a professor in the School of Information as well as an Associate Dean for Innovation. His research and teaching interests include museum informatics, innovation and design, technology and culture, and information and society. His teaching style is incredibly hands-on and activity-based. In every class, Dr. Marty strives to take what his students have learned in their textbooks and apply them to real-life scenarios.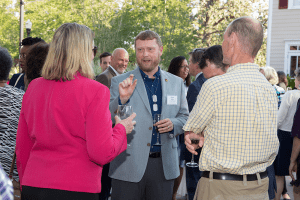 "One of the things I tell my students on the first day of class is that my classes are very interactive, very hands-on, very project-based, and that if they want a class where the professor is just going to stand at the front of the room and read off their PowerPoint slides, they might as well go home and get a degree from YouTube. You can learn a lot from YouTube but we want the university to be more than a lecture and an online quiz," he explains in his Faculty of the Future video.
With his encouraging attitude and clear passion for teaching, it is no surprise that his students nominated him for the award.
"It is truly an honor to win this award," Dr. Marty says. "I served on the University Teaching Awards committee from 2006-2009, where I was privileged to see firsthand how amazing all of our faculty and our students are, in every department and every classroom across campus.
"We are very lucky to live and learn at an institution that puts such an emphasis on teaching. There is a commitment to teaching excellence here at FSU that you won't find at many other universities, and I think we all benefit from being part of a community that values education as much as we do here," he says.
The College of Communication and Information would like to extend our congratulations to Dr. Marty for this award and thank him for his wonderful commitment to teaching in the iSchool over the past 17 years.