While most of us were soaking up some sun and avoiding work this past spring break, iSchool Professor and Assistant Dean Paul Marty ('02, Ph.D. University of Illinois at Urbana-Champaign) was traveling to Northwestern University's Qatar campus on the Persian Gulf, where he was invited to speak at the inaugural symposium for the new Media Majlis Museum in Doha.
The goal of the event was to discuss the evolving uses of media in museums and exhibitions to enhance storytelling, according to Northwestern University's website. As part of the Qatar Foundation's goal to bring exceptional experiences and education to Qatar, the Media Majlis "will host biannual exhibitions, weekly programs, and other events that encourage the exploration, discussion, and interrogation of media, journalism, and communication through global, regional, and local lenses," says the site.
For the museum's first event, Marty joined Nancy Proctor (Peale Center for Baltimore History), Anne Morra (Museum of Modern Art), and Sarah Cook (University of Glasgow) as a panelist for a program titled "New Media and New Museum: Communication and Storytelling." Marty's talk, "Museum Informatics: Engaging Museum Visitors through Digital Media" was well-received, especially by the museum studies students in attendance.
The next day Marty hosted a special session with just those students at University College London's Qatar campus, where they got to discuss the details of his talk further. "They were excellent students, very interested in digital media in museums, and we had a great discussion about the intersection of information science and museum studies," Marty said recalling the conversation he had with the students.
While in Qatar, Marty was also able to network with several universities that have international campuses in Qatar. So far there are eight in total with six hailing from the U.S., one from Britain, and one from France. Marty specifically got to interact with students and faculty from Northwestern University, Carnegie Mellon University, and University College London.
The trip wasn't all work, though! Marty was able to visit many national landmarks including the Museum of Islamic Art and the Qatar National Library which is "the size of Doak Campbell Stadium and absolutely breathtaking," Marty says. Sadly, he was unable to visit the new Qatar National Museum as it was not yet open to the public, but on the plus side, Marty was able to drive out to Qatar's famous "inland sea" and jump off of a sand dune. Not a bad beach day if you ask him!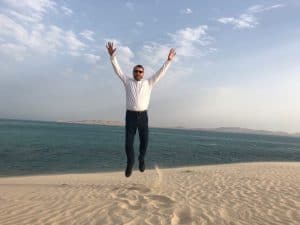 You can read more about Paul Marty's research here.