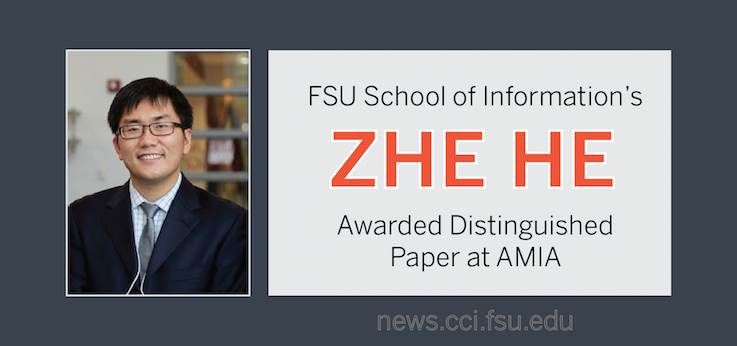 Dr. Zhe He of FSU's School of Information recently received the Distinguished Paper Award from the American Medical Informatics Association (AMIA). The research paper, "Simulation-based Evaluation of the Generalizability Index for Study Traits," was one of only five selected by the Symposium Scientific Program Committee.
The paper addresses representativeness issues that occur when certain population subgroups are systematically underrepresented in clinical studies across major medical conditions. It demonstrates the validity and effectiveness of a quantitative metric called Generalizability Index for Study Traits (GIST), which is able to assess the population representativeness of a set of related clinical trials using one eligibility feature at a time. The paper quantified the population representativeness of a set of trials that differed in disease domains, study phases, sponsor types and study designs.
He says, "I am humbled by this award and grateful to my colleagues Dr. Praveen Chandar, Dr. Patrick Ryan, and my postdoc mentor Dr. Chunhua Weng for their help in this work."
He and his colleagues were given the award this year at AMIA 2015 Annual Symposium, which took place in San Francisco, CA from November 14-18. Every year, researchers, physicians and policy makers present and hear about the latest scientific discoveries in the fields of biomedical and health informatics.
Of the symposium, he explains, "It is a great opportunity to meet the other researchers to discuss common research interests and seek potential collaboration."
As a whole, He's research interests include biomedical ontologies, data mining and knowledge representation. He is also interested in improving the utility of controlled terminologies and ontologies in biomedical natural language processing, clinical decision support, health data analytics and electronic health records.
Long-term, He is eager to work with biomedical informatics and wants to narrow the health disparities of the aging population by connecting expertise from medicine, computer science and statistics.
In his spare time, He likes photography and traveling. You can check out his photography website here.
To learn more about the iSchool at FSU, visit their website here.