School of Communication Science and Disorders (SCSD) graduate student Austin Thompson has been awarded an F31 predoctoral fellowship from the National Institutes of Health.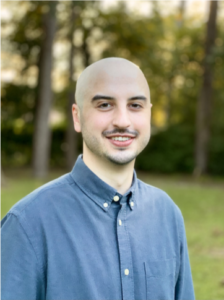 This award was created in order to enable promising students the opportunity to grow as research scientists through mentored research training. It will provide Thompson valuable support while he completes his dissertation.
In addition to their work, applicants are evaluated based on their institutional environment, mentor, and sponsors. For this reason, Thompson credits the School of Communication Science and Disorders as a major factor in receiving this distinction. "I believe that receiving this fellowship is a testament to the strength of the School of Communication Science and Disorders, my incredible mentor, Dr. Kim, and my gracious sponsors. Their support facilitated my receiving of this fellowship."
Thompson works closely with SCSD Associate Professor Dr. Yunjung Kim to identify speech movement characteristics of people with communication disorders secondary to neurological conditions including Parkinson's disease. Thompson and Kim use equipment called electromagnetic articulography to track the movement of articulators such as the tongue and lips that consequently degrade the intelligibility of their speech. Based on these findings, they hope to develop a data-driven speech rehab program for people affected by these disorders. "F31 fellowships are prestigious and highly sought after. For the short term, this fellowship will provide support for his research training that will lead to the PhD degree." remarked Dr. Kim, "For the long term, this fellowship will allow Austin to continue building his strong base to become an independent, leading researcher in the field of speech science and motor speech disorders."
Thompson is optimistic that this fellowship will not only support him during his studies, but allow him to make a difference in the lives of people affected by neurological disorders post-grad. "This fellowship will support my studies during the final two years of my Ph.D. program as I complete my dissertation. More importantly, I hope my dissertation project will serve as the groundwork for a career-long research line examining motor speech disorders in clinical populations, like Parkinson's disease and amyotrophic lateral sclerosis. As a speech-language pathologist, I recognize that there is still much to be learned about how best to treat speech disturbances in individuals with progressive neurogenic disorders."
For more information, about the fellowship, visit https://researchtraining.nih.gov/programs/fellowships/f31#.