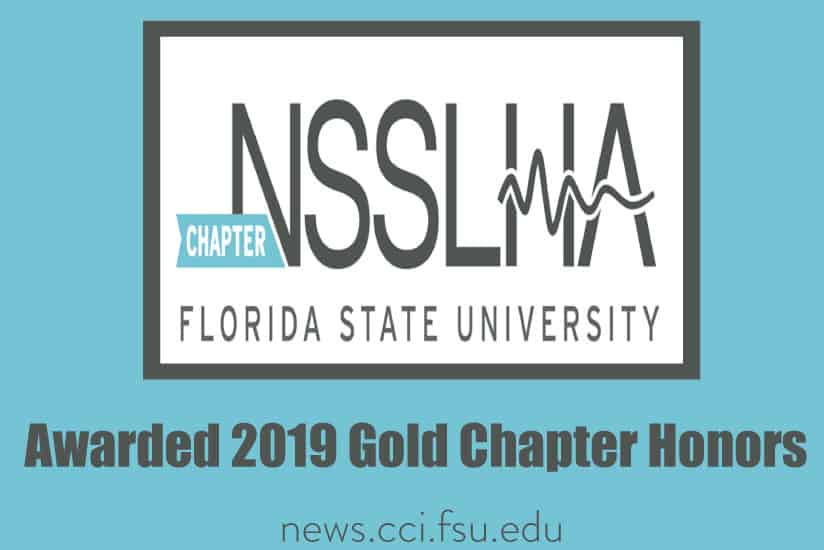 The College of Communication and Information has over 15 clubs under its name, including the Florida State Chapter of the National Student Speech Language Hearing Association (NSSLHA). Recently, NSSLHA awarded the FSU chapter with the 2019 Gold Chapter Honors. These honors are awarded to chapters that demonstrate an outstanding effort to support National NSSLHA's mission to inspire, empower, and support students in communication sciences and disorders programs.
FSU NSSLHA was founded in 1972 to help provide members with preparation in the fields of speech-language pathology, speech, and hearing science and audiology, as well as students interested in related majors and professional fields.
To do this, FSU NSSLHA helped Nationals focus on three main goals of awareness, advocacy, and scholarships. Because of efforts by FSU NSSLHA, the National Chapter was able to increase awareness of communication sciences and disorders on more than 100 local college campuses and communities across the country, increase advocacy efforts by sending more than 10,000 letters to state and federal legislators, and provide scholarships to students in communication sciences and disorders programs by contributing to a donation of more than $18,000 to the ASHFoundation's NSSLHA Scholarship.
"I am so proud of everything FSU NSSLHA has done over the 2018-2019 school year," says Mallory Meuser, FSU NSSLHA's President for the 2018-2019 year. "We had wonderful meetings with professional development opportunities, great fundraising opportunities to raise funds for FSU NSSLHA and other organizations, and started having socials this year to get to know members in the organization better. FSU NSSLHA has grown so much and I'm looking forward to seeing what it does in the future. It was an honor to serve as president this past school year, and we could not have this much success without the help from our advisors, my other executive board members and chairs, and all of the FSU NSSLHA members. FSU NSSLHA is in great hands and I know this chapter will continue to succeed in the future."
Gold status is the highest recognition a chapter can achieve, and it's getting increasingly harder for chapters to make the cut. "For the student members, their gold status reflects the time and effort they have invested in their organization. They've been involved in awareness campaigns, advocacy, community service, fundraisers for non-profits, research, and conferences. They plan and coordinate special programs and recruit guest speakers to their meetings. There are so many things they do out of an interest in helping other people," says faculty advisor Dr. Shannon Hall-Mills. "We think it is quite fitting for them to be recognized as a Gold chapter again, but we also like to think of it as the 'Garnet and Gold' chapter!"
NSSLHA is open to all students, regardless of year or major. For more information, you can visit their Facebook page or their page on NoleCentral.