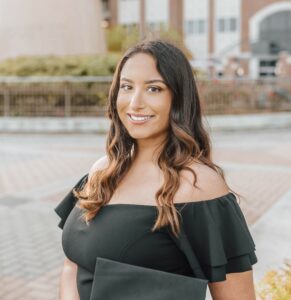 School of Communication Science and Disorders (SCSD) graduate student Shirin Khambalia was one of three college students awarded the 2021-2022 iThink Financial Community Foundation Scholarship for her leadership, commitment to her community, and career goals.
The iThink Financial Scholarship program awards high school, college, and trade school students $2,500 to help support themselves financially throughout their studies. The application process requires students to submit two letters of recommendation, a list of their academic honors, extracurricular activities, awards, and goals for the future.
"I worked extremely hard during my undergraduate studies to be in the position that I am in today," said Khambalia. "This scholarship, in a way, is a form of recognition for that– and inspiration for me to keep working hard. This scholarship means that I can focus more on school, clinical experience, and research; and worry a little less about financials."
Starting as an undergraduate at Florida State University (FSU) majoring in Communication Science and Disorders, Khambalia completed an Honors in the Major Thesis (HITM) under SCSD Assistant Professor Dr. Andrea Barton-Hulsey. Her research titled, "Reading Comprehension, Theory of Mind, and Language Comprehension: An Exploratory Study with an Adult with Autism Spectrum Disorder" received the Bess H. Ward Thesis Award, providing her further funding for her studies.
"Shirin is a gentle leader among her peers," said Dr. Barton-Hulsey. "She brought thoughtful questions to lab meetings and contributed to the discussion about ongoing data collection and current projects that inspired others to also engage. In working with Shirin on her honors thesis project, I observed her ability to review the scholarly literature, critically think about its application to her project, and convey this knowledge succinctly in writing. Shirin takes initiative, is an excellent problem solver, and critical thinker."
Her positive experiences as an undergraduate student motivated Khambalia's decision to pursue a graduate degree at FSU.
"Shirin has been a standout to me since first meeting her in the Spring of 2020," said SCSD Associate Professor and mentor Dr. Kelly Farquharson. "I think one of the things that impressed me the most was how she approached her HITM project. I'm not exaggerating when I say that Shirin came prepared with three dissertation-level research study ideas! Shirin is a superb student, an excellent thinker, and a great writer. I'm thrilled she'll be staying at FSU for her graduate studies."
"The iThink Financial Community Foundation Scholarship is a blessing for me, and such an honor to receive," said Khambalia. "I am beyond thankful for this opportunity, as it will make a big difference in my education."
"Throughout my graduate studies, I hope to gain clinical experience with various populations," said Khambalia. "Currently, I have a strong interest in working with adults with acquired communication disorders and hope to gain proficiency in working with this population through my graduate clinical placements. I also hope to complete a master's thesis and be a Teaching Assistant at the graduate level. Although the semester just began, I know that I will thrive as a speech-language pathology graduate student and graduate clinician at FSU."
To learn more about the Honors in the Major Program, click here.