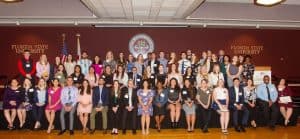 The Florida State University Career Center hosted its fifth annual Student Employee of the Year Awards ceremony April 8, celebrating the positive impact student employees have on the Florida State community. A record-breaking 100 nominations were received from 60 departments and divisions at FSU. College of Communication and Information (CCI) nominees include Aleks Iricanin, Bethany Martin, Kaitlyn Bludau, Karen Duarte, Rhiannon Jacobson, Rienne Saludo, Samantha Rice, Sydney Gilmore-Duffey, Thomas Field and Zoe Zirlin.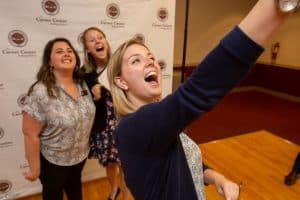 Rhiannon Jacobson works for CCI as the Outreach Coordinator and was nominated by her employer, Ebe Randeree. On her nomination, Rhiannon says, "I am honored to receive this nomination and humbled to be included in the ranks of such talented and hard-working student employees."
CCI student and Media Intern Samantha Rice was also among the student employees being recognized for their contribution to the FSU community. She was nominated by employer Stephanie Vivirito in the College of Communication & Information. "These types of awards are so important because they acknowledge the balancing act of student employees," said Rice. "The skills, knowledge, and experiences I've gained while working at CCI is something I'll carry with me into my future professional career and it's all thanks to my incredible co-workers."
Thomas Field, nominated by Chris Lau, works for the front desk at CCI helping students navigate scheduling appointments with academic advisors. "I'm very honored to have been nominated for the Student Employee of the Year Award and to be recognized among so many other great student workers across FSU." Field says. "It's encouraging to see the hard work student employees put into their positions appreciated and awarded by the University."
Through her years working for CCI, nominee Bethany Martin echos the sentiment of the other nominees by reflecting on her time as a student employee. "Being nominated for this award is such an honor. I've worked at CCI for two years now and I've enjoyed it so much!" Martin was nominated by Lindsay Schiller who says, "In observing Bethany, I am floored at the poise, calm, and confidence she exudes when working with emotional and often chaotic student-driven environments."
The awards are each named after an aspect of the institutional seal or in honor of an exemplary alumnus. You can see all of the winners here.