From July 15th to 18th, the Florida Association of Speech-Language Pathologists and Audiologists (FLASHA) held an annual convention focused on connection and sharing research. Speech-language pathologists and audiologists met to network and learn from each other, all while stressing the importance of meetings in this field.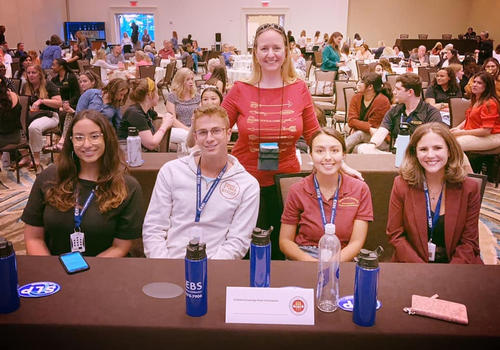 "This was the first state association in our discipline to hold a face-to-face conference in the past two years due to the pandemic," shared Shannon Hall-Mills, PhD, Professor in the School of Communication and Science Disorders. "We celebrate the strong presence FSU-SCSD had in planning, conducting, and attending this event."
This event featured many interactive components for participants, such as keynote sessions, education panels, and raffles. The Knowledge Bowl consisted of teams from different schools going head-to-head, with FSU's team placing 2nd in the state. This team consisted of talented students Shirin Khambalia, Matt Cusic, Rebecca Williams, and Erika Hudson.
Leesa Marante Pulte, doctoral candidate, conducted two presentations on her research as a school-based SLP. One was titled "Working with Adolescents: Collaboration, Connection, and Consistency" and followed her research, while another was presented in collaboration with Hall-Mills, focused on "School-based SLPs' Working Conditions in Florida Compared to the Nation".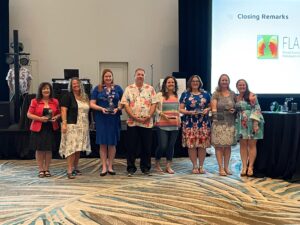 Dr. Farquharson was invited to speak for three presentations. She presented "The Overlap between Speech Sound Disorders and Dyslexia" with Avery Alderman, "Reframing Target Selection for Children with Speech Sound Disorder" with Amy Graham, and "Balancing Work and Life in the World of Schools", presented with FSU SCSD alumni Jennifer Westmoreland and Lyndsey Zurawski.
Dr. Hall-Mills concluded her term as President of FLASHA, ultimately crafting an amazing experience for pathologists and audiologists. For more info on FLASHA conventions, click here.