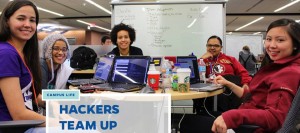 Several Florida State students recently attended SwampHacks, the University of Florida's hackathon (in other words, a software development marathon). From 12 pm on January 23 to 12 pm on January 24, participants programmed new products, listened to tech talks and spoke to recruiters from corporate sponsors such as Facebook and Microsoft.
FSU iSchool student Zaymeen Deen was part of the only all-women group out of 54 teams. Her team developed a web app using the clarafai API, an image and video tagging and searching device. The app is able to look at an uploaded image and have it respond by using the binary converter.
Deen shares, "My experience at SwampHacks was impeccable. Learning how to create and build with four other Seminole women was the best experience, and it didn't hurt that we were the only female group. Thank you to everyone in CCI who was routing for us. We didn't let you down!"
Many universities around the globe host their own hackathons, and FSU is one of them. HackFSU participants will check in at 9 pm on February 5 and begin hacking at midnight, not stopping until 6 am on February 7. It will also include a discussion about women in tech, a brand-building workshop and more.
Click here to register for HackFSU.