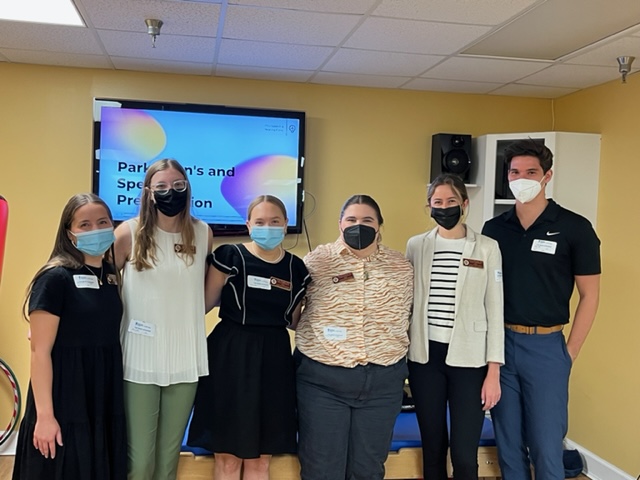 In the Fall 2021 semester the School of Communication Sciences and Disorders hosted Rock Steady Boxing Classes at Sweat Therapy Fitness for those battling Parkinson's Disease (PD). Five first-year Speech-Pathology graduate students that are part of the SOAR (Successful Outcomes in Adult Rehabilitation) team, led by Becky Greenhill, have been attending two Rock Steady Boxing classes each Monday throughout the Spring 2022 semester to gain practical experience working with people who have PD, and learning about how PD impacts speech and voice, as well as swallowing and cognition. 
This semester, an opportunity arose for the SOAR team to speak to residents at Westminster Oaks. The students provided a 30-minute presentation about the impact of PD on speech and voice, and swallowing and cognition, along with the possible treatment options for each area to an audience of people impacted by PD or suspicious that they may have PD. After the presentation, Westminster Oaks residents were able to participate in a Q&A session with Greenhill and the SOAR team. 
"From this experience, I gained knowledge and practice in organizing and including information that is most beneficial to the intended audience," says SOAR member Sydney Peters. "Parkinson's Disease is an extensive topic; however, it was important that our presentation remained concise and straightforward. This way the presentation was more engaging, and the information was easily absorbed by the audience!"
Becky Greenhill and the School of Communication Sciences and Disorders hope to participate in community outreach events quarterly. "During the Fall 2021 semester, we conducted free speech and swallowing screenings to people in the community with PD, and we hope to be able to do the same type of event again soon, perhaps, during summer semester," said Greenhill. 
To learn more about the Rock Steady Boxing Classes at Sweat Therapy Fitness from the Fall 2021 semester, visit Speech Pathology Graduate Students Host Rock Steady Boxing Class at Sweat Therapy Fitness