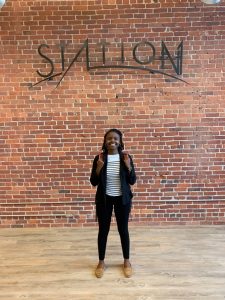 Meet Kallayah Henderson, an upcoming senior majoring in Information, Communication, and Technology with a minor in Computer Science. She has been spending her summer working as a Fellow for Station1 Frontiers in Boston, Massachusetts. Her fellowship includes a research opportunity, coursework through MIT, and an internship in the technology industry with HodlPal, a start-up social media company.
"This is a great opportunity for deserving, underrepresented students at Florida State University and it is an honor that Kallayah was chosen to receive this fellowship," says Dr. Yolanda Rankin of the FSU iSchool.
Henderson heard about this opportunity from her aunt, Dr. Loretta Cheeks, who has a Ph.D. in Artificial Intelligence and also went through a fellowship program with the creator of Station1, Christine Ortiz. Henderson was excited at the prospect of spending her summer in a new city and was intrigued by the components of the program. "I wanted to get involved with research and figured what better way to do that than to learn and intern with those connected to MIT. Prior to this program I had no research experience and wanted to partake in research before graduating," she says. Now, she feels confident in the skills she has been able to master while part of the program.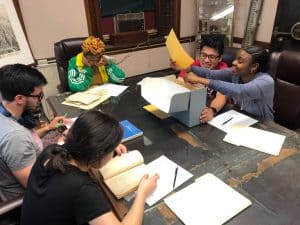 "My favorite part about this experience so far is all of the people I have met from different states and countries. I also enjoy the curriculum that I have twice a week when I am not interning at HodlPal. Working for a small startup company so close to the beginning stages of its growth has been great. The work environment has allowed me to work closely with my mentor George Whitfield (the company CEO) and use that time to fully understand the mission behind this new social media platform built around the concept of trust. I have also learned a lot about social innovation and ethics in technology," she says about her experience so far.
On top of expanding her skillset, this experience has helped expand Henderson's horizons. She has started looking at out-of-state graduate programs, eager to continue to explore her career and research while exploring new places. Henderson plans to earn a Master of Science in Human-Computer Interaction with a focus on UX Design.
Henderson will get a taste of this in October when she heads to Orlando for the Grace Hopper Conference. She was selected to receive a complimentary registration of $450 allowing her to attend. "This is indeed an honor to be chosen to receive the registration scholarship since it celebrates women from around the world who have chosen to pursue a career in computing… This is my senior year before going to graduate school and making these kinds of connections as a Black woman in computing is important for upward career mobility. Furthermore, I want to take advantage of every opportunity that will help me to be successful in this competitive field," she says expressing her excitement. Her travel expenses will be covered by CCI Foundation Funds.