Tallahassee native, Carter Rooney, graduated from Florida State in 2016 with a bachelor's in Information, Communication, and Technology. Since then, Rooney has taken his knowledge and skillsets to an unconventional setting. After graduation, Rooney moved to Austin, Texas, where he entered the police academy before becoming a patrol officer for the Austin Police Department.
Rooney notices how his experiences in IT have advanced his abilities to perform his daily tasks.
"We all have mobile dispatch terminals (computers) in our vehicles and we are on it for the majority of our shifts. From being dispatched to calls over the computer, to reading what the calls are, our report writing programs, running plates through our involvement programs I am on the computer using complicated programs 60% of my shift. Coming from an IT background I was able to understand and master these programs very quickly."
Rooney serves his fellow citizens by regularly responding to 911 calls in his assigned area, running traffic, community policing, looking for drugs or other illegal substances/activities, and other tasks. He told us, "People think being a police officer is all chasing bad guys, driving fast, and being in dangerous situations but while that is a facet of it, that's only a small part of what we do. The vast majority is being reactive and responding to calls/taking reports."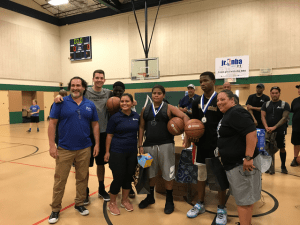 To learn more about this amazing alum, continue reading our Q&A with him.
What Jeopardy category could you clear, no problem?
History
What is the best account to follow on social media?
@CoachTaggart obviously
What is your favorite office snack?
Cheez-its
What is the best piece of advice you have ever received?
Give respect to earn respect.
Who do you admire and why?
Pope Francis, in a world filled with hate and confusion he finds a way to bring people together with compassion and understanding.
Where do you look for inspiration?
My wife and family
How do you handle work-life balance?
It is tough with our schedules as they change month to month but my way of handling it is to not make my work my life. There's a culture in policing that values the job above all else and people put their identity into it. While I think it is correct that this is more of a calling than a job, I do not hold my identity in this job. My identity is as a Christian, a husband, a son, a brother, and as a friend.
Share a notable experience you've had at work.
Since I was an IT major I am expected to fix/solve everyone's problems with their computer systems.
What advice would you give yourself in college?
I would have taken more classes outside my major, cultural studies and things like that.