School of Communication Alumnus Carlos Galindo received the Excellence in STEM Innovation Award at the Tennessee STEM Innovation Network Summit from May 9-10, 2022 in Nashville, TN, for his exceptional work of sharing strategies for creating a high-quality STEM culture.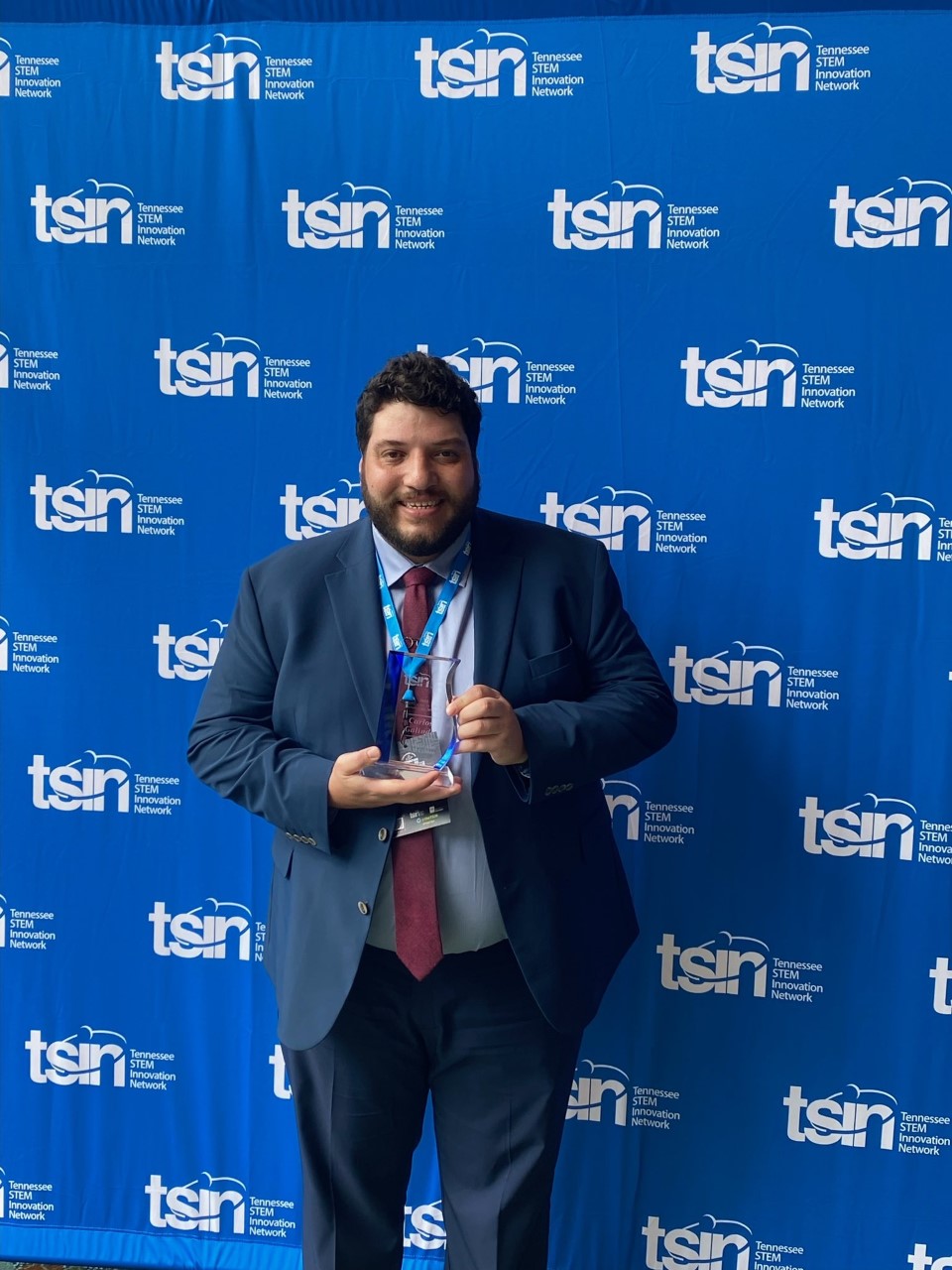 In 2010, the Tennessee Department of Education launched the Tennessee STEM Innovation Network (TSIN). The Network's goal is to develop high-quality STEM programs to ensure K-12 students in Tennessee are prepared for success in college and beyond. The Network utilizes regional STEM innovation hubs and STEM designated schools to transform classrooms in surrounding school districts, and to increase student interest and participation in STEM fields. 
The TSIN Innovation Summit brings together K-12 educators and administrators from across the state to discuss professional development opportunities, network, and celebrate the schools that have earned the state STEM designation. 
Galindo's role in the Outreach and Marketing sector at the Millard Oakley STEM Center at Tennessee Tech University focuses on coordinating, planning, and marketing all of the STEM center programs and resources to stakeholders in the Upper Cumberland region of Tennessee. The Millard Oakley STEM Center offers educators, schools, K-12 students, and the nearby communities a wealth of interactive programs, activities, and events, while also representing a formal partnership among school districts, post-secondary institutions, STEM businesses, and community organizations that are dedicated to amplifying the impact of STEM programs in their region. 
The STEM Excellence Awards are designed to recognize outstanding teachers, school leaders, advocates, and innovators for STEM education in Tennessee. 
"This award means a lot to me because it means the work I have been doing in my region to foster STEM education is being noticed at a State level," said Galindo. "To top it off, this award means that what I am doing is having an impact on the future of students and that is priceless to me. It felt great to go up on stage and be recognized by those who you aim to help. It is a moment I will never forget."