This article was written by Ni'A Landon, a junior public relations student and School of Communication Director's Ambassador.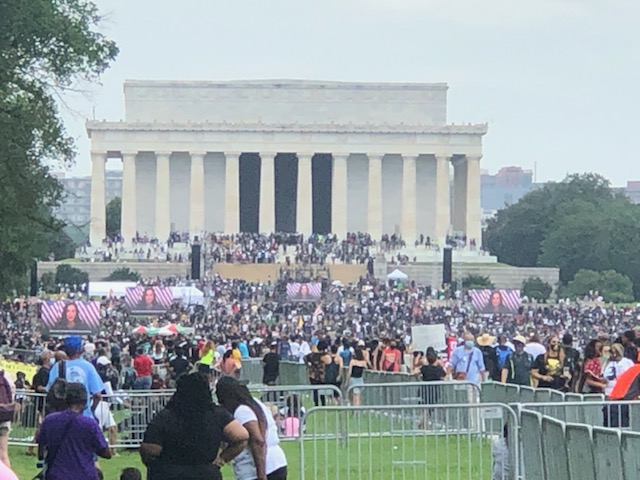 It has been almost three weeks since I gathered with thousands at the steps of the Lincoln Memorial in Washington DC, in protest of systemic racism, and its impact remains so powerful today.
Friday, August 28, marked the 57th anniversary of the historic March on Washington, where Dr. Martin Luther King Jr. delivered his 1963 "I Have a Dream" speech.
It was a 20-minute walk from my hotel to the march. As I wandered through DC streets, its street art spoke to our current times and discourse on racial equity and justice. There were art murals, paintings and banners on buildings, sidewalks, and local businesses. To my left was a large mural that read "Black Lives Matter" on an American Flag held in a Black Power fist above the faces of George Floyd, Bre'Onna Taylor, Trayvon Martin, Tamir Rice, Sandra Bland and Ahmaud Arbery. Ahead was a large banner draped on a building across the White House that read "Enough is Enough".  And on the streets, drivers in decorated 'Power2thePeople' vans held up their fists and blasted revolutionary music from artists such as Kendrick Lamar, Lauryn Hill, and Marvin Gaye, from two large speakers on the van's roof.
Instantly, I knew I belonged to a bold and powerful movement. As I headed to the march, I was pumped, inspired and ready to be a part of history.
In the wake of George Floyd's murder by a police officer, Reverend Al Sharpton and Martin Luther King III convened the "Get Your Knee Off Our Necks" commitment march. Civil Rights leaders, joined by the families of unarmed Black men and women killed by the police, delivered speeches that moved those who stood and sat on the monument's lawn.
Sitting on the grass of the Lincoln Memorial was similar to what I have always read in history books and seen in documentaries, but this moment was real, and to me change is urgent. Urgent because it's 2020, and Black Americans are still fighting.  Urgent, because it's 2020, and racial injustice continues.
"America, we need to have a conversation about your racism, your bigotry, about your hate and how you would put your knee on our necks as we cry for our lives–we need a new conversation," said Rev. Sharpton. I nodded in solidarity because the time is now for a new conversation.
When the speeches ended, the march began from the Lincoln Memorial to the Martin Luther King, Jr Memorial. My feet ached and my body was drenched in sweat. Yet, I felt extremely empowered. My experience at the March on Washington reinforced the power in driving change, speaking up and declaring enough is enough.
I went to DC because it's a movement not a moment.