At the end of the Spring 2021 semester, 15 undergraduate students from FSU were inducted into the American Sign Language Honor Society (ASLHS).
The FSU Chapter of ASLHS is an organization that allows students to receive special recognition by demonstrating their hard work and dedication to studying American Sign Language. Students are inducted into the honor society upon graduation if they meet nationally-established requirements in addition to FSU's specific requirements through the completion of specific coursework and ASL volunteer work over the span of two or three years, depending on level of honors achieved.
Dr. Kristen Guynes, also known as "Dr. K.," is a full-time School of Communication Science and Disorders (SCSD) faculty instructor who teaches ASL and related courses. She said, "If I take a step back and reflect upon the most overarching reason that we offer ASL within the School of Communication Science and Disorders, I believe it is to help prepare professionals who are culturally responsive and inclusive in their future practice."
The 15 students who achieved Honors in ASL were honored with an induction ceremony into the ASLHS at the conclusion of the Spring 2021 semester.
Michael Walch (pictured left) is one of four students who achieved distinguished honors.
"My love for ASL and desire to work with the Deaf community has formed who I am today as I tried to make it central in my college career," said Walch. He will pursue a master's degree at FSU in order to become a speech pathologist specializing in pediatrics with Deaf and hard of hearing populations.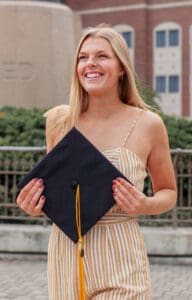 Amanda Prozeralik (pictured right) also achieved distinguished honors and will attend the University of Florida next Fall to pursue her doctorate of audiology.
"It is not so much the act of receiving this honor, but the gaining of valuable experiences and perspectives that made it most important to me," she said. "Receiving this honor, for me, is confirmation that the time and effort that I spent within the ASL program produced something tangible that I will be able to utilize in my future."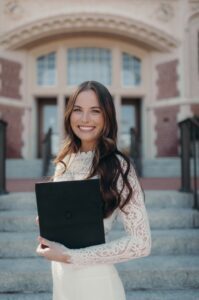 "I am forever grateful for Dr. Guynes and the ASL Program at FSU for being a large part in molding me into the person and student I am today," said Prozeralik.
Hope Meyer (pictured left), who also achieved distinguished honors, will be starting the M.S. Speech-Language Pathology program at Boston University in the Fall to continue in her pursuit of becoming an SLP.
"This honor is incredibly important to me and something I do not take lightly. To me this means being able to shed some light on a very vast culture and be an ally to the Deaf community," said Meyer.
This year's honorees stand out because they have completed the majority of their coursework and service requirements fully online. Congratulations to the students listed below for their stellar work!
2021 Honorees
Alyssa Durden
Amanda Prozeralik – Distinguished Honors
Mary "Cailan" Gerety
Emily Gordon – Distinguished Honors
Emma Metzler
Hope Meyer – Distinguished Honors
Jackie Hathaway
Jaya Smith
Julia Williams
Laura Dinsmore
Lexie Bobrow
Michael Walch – Distinguished Honors
Rebecka Livingstone
Sarah Mizen-Halperin
Shaye Deegan