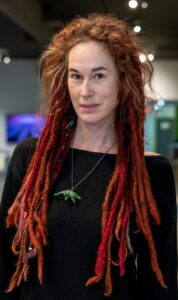 School of Communication alumna Kristin Bass-Petersen ('10, M.A. Media and Communication Studies) alongside the Tallahassee Film Society (TFS) and The Pod Advertising are organizing the sixth annual Florida Animation Festival (FAF).
This festival set for June 10 to 27 will be mostly virtual with three in-person screenings at a Tallahassee local independent theater, All Saints Cinema.
"Planning for an event in the wake of 2020's uncertainty is not typical by any means but has given us an opportunity to get differently creative," said Bass-Petersen. "We had a great turnout with our virtual event last year so we focused on repeating that for 2021 and I'm very excited for all of the great content people can stream worldwide."
For the in-person screenings, it will be limited capacity, all tickets must be pre-purchased online, and no concessions will be sold to keep everyone safe.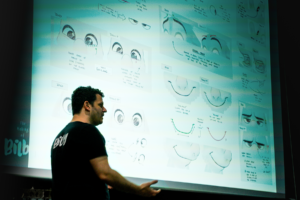 "Southeast Delights" will start the Festival Thursday evening at 7:00pm on June 10 in place of the typical kick-off party. Following that will be the series of shorts that encapsulate "Era Animato" on Friday June 11 at 7:00pm. The final screening, "Rated G for Great!" will be held on Saturday, June 12, at 10:00am for families. There will also be artwork by Briteso featured at the festival that day.
"We have received more submissions than ever before," said Bass-Petersen, "and we had such an overwhelmingly positive response to our call for judges that all of our panels have doubled in size! These are incredible markers reaffirming that all of the time we pour into this humble festival is being appreciated and respected."
"It is our goal to keep fostering a love and appreciation of animation in all its forms," she said. "This year we have a very strong block of films in our 'We Need To Talk' program, covering topics of social commentary and environmentalism.  At the same time, we have amazing selections scattered across our other programs that will give attendees a chance to escape the real world for a little while through tales of sci-fi and adventure, romance, comedies, family and friendship, philosophical ponderings, music videos, and so much more."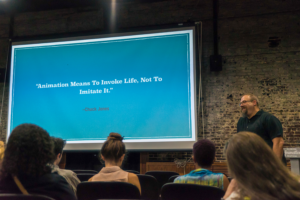 To purchase tickets for the in-person screenings, click here and look for the three fliers under "Now Showing and Coming Soon."
A link to the virtual event can be found here.
The Virtual Program book can be found here.