College of Communication & Information alumni Elam Stolzfus (B.S. '88) and son Nic Stolzfus (B.S. '12) will debut a documentary celebrating Florida's heritage as a cattle state later this week. The Great Florida Cattle Drive: Unbroken Circles, was filmed and produced by the father-son duo, telling the story of Florida's cow culture and the Great Florida Cattle Drive of 2016.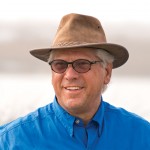 The film will premiere Thursday, Feb. 16 at Mission San Luis to a private party with public showings on Friday and Saturday. Tickets are available here. The film is a PBS documentary and will be shown on all Florida PBS stations from Feb. 19 through March 3.
Elam and Nic own Live Oak Productions, focusing on sharing Florida's natural stories. The duo wrote a book and documentary Coastal Dune Lakes: Jewel's of Florida's Emerald Coast in 2012.  

"I had some absolutely phenomenal professors – Davis Houck, Misha Laurents, Donna Nudd," shared Nic. "The program taught me how to communicate in different methods and different forms. It set the foundation  of what I do pretty much all day. I work on finding a story and communicating that with the public."
Elam Stoltzfus' degree in Media Production was the beginning of a career behind the camera. Over 30 years, he has produced seven feature-length films that have garnered 16 Tellys, three Davies and an Emmy award.
Find more information on the Great Florida Cattle Drive and information about tickets here.