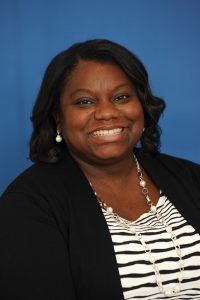 Meet iSchool alumna Lenese Colson ('08 MLIS, '16 Ph.D. Information). She currently works in Jacksonville as a Freelance Course Developer and Post-Doctoral Research Fellow for the American Association of School Librarians Class II Project.
For Colson, libraries were always a big part of her life. "My family moved a lot because my father was in the Navy. However, one of the first things we did was find the library," she says. This small act stuck with her. Soon, Colson decided a career in librarianship was the path for her.
This led her to join FSU's iSchool. "My time at FSU was instrumental in my future career. My classes were wonderful, and I gained valuable experience as a graduate assistant at Strozier Library and an intern at the FSU London Study Centre. This lead directly to my position as a Teen Librarian where I was able to immediately use and expand upon the skills and knowledge from my MLIS program. This was the beginning of the path to my new position at VSU."
However, the path to her Ph.D. went a little differently. "The reason I decided to earn a Ph.D. in Information was due to the one and only Dr. Christie Koontz. She was in South Florida recruiting and asked if I would come to speak about my experience in the MLIS program and internship. I made an off-handed comment about wanting to maybe get a doctoral degree one day. That 'one day' turned into me submitting my resignation letter and moving to Tallahassee a few months later."
Colson is on the move again as she heads to Valdosta State University to become a Tenure-Track Assistant Professor in the Department of Library and Information Studies. There she will be teaching courses and researching the needs of the underrepresented and underserved in libraries and information fields.