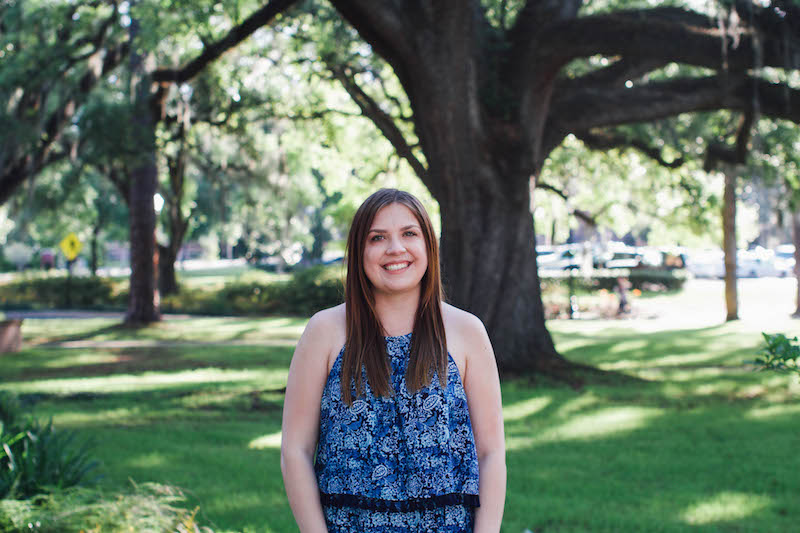 Meet Sarah Davis, alumna of the Media Communication Studies and Editing, Writing & Media programs & Content Coordinator at DZone.
The Basics
Name: Sarah Davis
Degree: Bachelor's in Media Communication Studies & Editing, Writing & Media
Hometown: Orlando, FL
Current City: Raleigh, NC
Job: Content Coordinator at DZone
Meet Sarah
Who do you admire and why?
My sister. She's so selfless and kind. After I graduated and didn't really have anywhere to stay while I was job searching, she offered to let me live with her for free until I found a place to work. She's been an integral part of my post-graduation journey!
What Jeopardy category could you clear, no problem?
John Mayer sing-along trivia. I saw that Madison Social had it a couple of days ago and I'm so sad that I didn't get to go!
Favorite office snack?
We have Belvita crackers in-office and I eat them almost every morning for breakfast. They're so good.
Best account to follow on social media?
I follow a ton of cat accounts, two at the top are @the.dailykitten and @cats_of_instagram.
Best piece of advice you've received?
My mom passed away a couple of years ago and she was all about self-care. (Before it became cool! What a hipster.) She would always talk about how important it is to take care of yourself — to speak up when something doesn't feel right, to not put up with people treating you poorly, to know what is important to you and stick close to that. She really instilled the idea of self-care in me from a young age, and that's the best chunk of advice I could've ever received.

The Career
Tell us about your job:
I work as a Content Coordinator at a small technology start-up called DZone. We publish articles, guides, and references cards (called RefCardz) that have to do with a ton of software and technology-related stuff. Anything from work culture to the cloud to Artificial Intelligence to web development to mobile development. It's a small company of around 50 people and I really love the vibe. We have a pool table, a foosball table, beer on tap, nerf guns, and video games, and everyone is really nice. I don't think I could ask for a better work environment.
What does your average day look like?
I get into work around 9:30. If it's my day to do what we call "moderation," I go through all of the articles that have been submitted since we left the night before and sort them into the different "zones" that we have on the site. After that, I'll check my email.
Then I'll get to editing the articles that are appropriate for my zones. Copyediting (which can take a while, because we get a lot of ESL articles), working with authors, and looking for new articles takes up the biggest chunk of my day. I do research to find new authors for the site and find new blogs to syndicate. I've also been doing more work on producing Guides and RefCardz lately, which I'm really excited about!
How did your education prepare for your career?
Being a Media Communication Studies major really helped me learn how to communicate and work with people, which has been incredibly important in my job. Those Communication skills have come in incredibly handy. I've also used a lot of the concepts that I learned in classes like Principles of Advertising with Barry Solomon and Intro to PR with Jay Rayburn.
How had working in your industry changed the way you look at the world?
I've learned that anything you read has a team of people behind it.  A lot of work goes into every article on every website and every publication that a company produces, and that can go unnoticed a lot of the time. I have a new appreciation for it.
Share a notable (funny, embarrassing, exciting) experience you've had at work:
Every quarter, we have a kick-off event where the whole company goes out somewhere fun (and we never know where we're going until right before it happens). Since I've been there, we've done an escape room, gone to an arcade/putt-putt/go-kart place, and done a spy mission at the NC Museum of History and NC Museum of Natural Sciences. That one was the most fun.. we were split into teams and had to decode a bunch of clues all over the museum.
Who do you look to for inspiration?
My sister. She's such an embodiment of my mom, and shows it every day in her work as a therapist. She understands self-care so well and truly cares about what she does every day, whether it's at work or at home. She cares so much for other people, works incredibly hard, and puts herself first every day in the least selfish way.
How do you handle work-life balance?
I always make sure that I do something either before work since I don't have to be in until 9:30. I'll go to the gym, clean up my apartment, or even just color in a coloring book. After work, it's things like going to trivia with my girlfriend or simply making a real dinner instead of frozen pizza. Doing even the smallest things in my life outside of work is what helps me stay sane.
What advice would you give yourself in college?
Save more money!
---
Connect with Sarah
Facebook // Instagram // LinkedIn
---