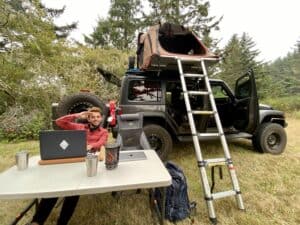 Gilberto Parada ('13, B.S. Information Communication Technology) has always had a knack for adventure. In 2016, Parada sold everything he owned to move west and seek a larger career market. When he arrived in San Diego, Parada worked at a design agency for a year before securing a job as a UX designer for an in-house software team.
But when March 2020 came around and his job switched to remote operations, Parada saw this as an opportunity to go his next big adventure through America, only this time he wanted it to be more personal. He hoped to pursue his passion for photography more seriously and encourage others to venture outside.
"I set sail on a Jeep Wrangler with a few off-road add-ons, an LTE receiver, and portable lithium battery," Parada said. "The route? Baja, California, Mexico, to Mt. Hood, Oregon, along the Pacific Coast then east to Glacier National Park, and south through Idaho to the Rockies. From there, south to New Mexico in route to Florida for the holidays."
Over the past 13 weeks, Parada has traveled across 14 states staying mostly on his vehicle's rooftop tent, in rental properties and U.S. forest cabins. His days consisted of setting up internet and solar panels, a light breakfast, and finding a good place to work for the day. An early start would ensure enough daylight to hit the road and find a place to settle in for the night.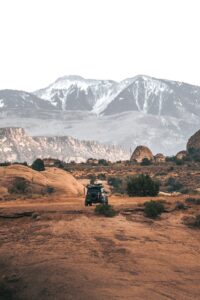 "I would plan my route between meetings and get on the road during lunch," Parada said. "I'd take the rest of my calls from the road and start researching forest land and campgrounds in the late afternoon."
While it may seem all fun, Parada's journey is not without its challenges. "Due to the pandemic many national parks and campgrounds were closed, adding a bit of uncertainty to my day-to-day," Parada said. "It's surprisingly hard to find free and legal places to sleep in a vehicle. As a matter of fact, it's outlawed in most counties." When he could find somewhere to sleep, the weather added another uncertainty to his daily life. Parada needed consistent sunlight to charge his battery for work, and when it's raining, he isn't able to set up his kitchen outside to cook. "Planning your day around weather and campgrounds can be stressful, and the anxiety of not knowing where you'll sleep never goes away."
Still, this type of lifestyle is becoming increasingly popular with millennials, especially in the technology field.
"These 13 weeks have shown me a new approach to finding happiness and fulfillment," Parada said. "Landscapes were truly awesome, but the joy of living free, removed from the chaos, in control of my own environment was the most energizing and exciting part of it all."
"If I could leave a new grad with any advice it is to be passionate," Parada said. "When we are passionate about something, we become more focused versions of ourselves. We are more likely to explore a topic, an issue. More likely to immerse ourselves in our craft, our relationships, in the world around us. When a passionate person enters a room, others can sense it. It's palpable, almost tangible."
In the future, Parada hopes to build an "adventure van" that is better suited for these types of expeditions. His goal is to assemble a photography series that reveals the essence of all the places he saw. Parada began construction of his "adventure van" over the holidays that will serve his next photography tour of the U.S. and Baja California, Mexico.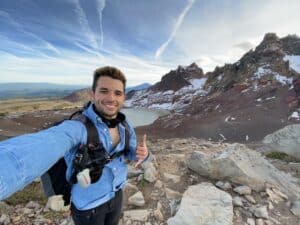 "This pandemic has changed the way enterprises think about operating their workforce and I am confident that remote work is the way of the future," he said. "The possibilities for people like me who are passionate about the outdoors are only growing."
Parada hopes to return to San Diego in April when offices reopen and continue to grow his independent design studio, Mundo.