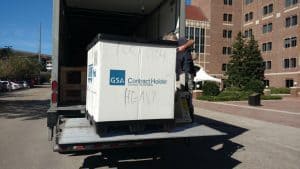 On November 16, 2018 a crate full of 1,239 pounds of Hurricane Michael relief supplies arrived shortly after noon in front of FSU's School of Communication. This was no ordinary delivery as the return address was from the United States Coast Guard in Boston, Massachusetts. Lieutenant Commander Krystyn Pecora is a School of Communication alumna (M.S. '13, Media Communication Studies) currently serving as the Executive Officer of Coast Guard Cutter Seneca and wanted to do her part in helping with the hurricane relief efforts in the panhandle. "We know that recovery from a storm is a long-term event," Pecora says. "We are glad we can assist families in the affected area as they work to rebuild their lives."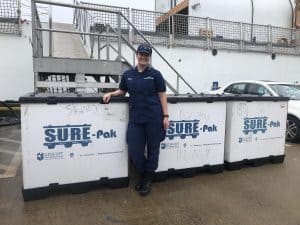 While the Coast Guard rescued or provided assistance to more than three hundred people in the wake of Hurricane Michael, Seneca had just returned from a three-month patrol and Pecora's crew was not deployed in support of hurricane response. Shortly after the hurricane hit, one of her crew members, Operations Specialist Third Class Danielle Pullen, a Panama City native, came to Pecora with the idea of holding a drive for donations for families impacted by the hurricane. "I merely said yes to a great idea and helped her reach out to Coast Guard personnel in Boston to make them aware of the drive," Pecora explains. "Danielle created the fliers, conducted the outreach, and even led the crew in organizing and packing up all the donations.
"One of our main goals was to ensure that these goods reached families in need down in the panhandle," Pecora continues, "but we couldn't find a charity that could ensure that would happen. Luckily, Dr. Davis Houck posted on Facebook that the School of Communication was looking for donations and distributing them directly to the community through the students. We were able to connect and now there's more than 1,200 pounds of donations headed to areas that need it most."
Click here to read more about School of Communication Alumna and Lieutenant Officer Krystyn Pecora.