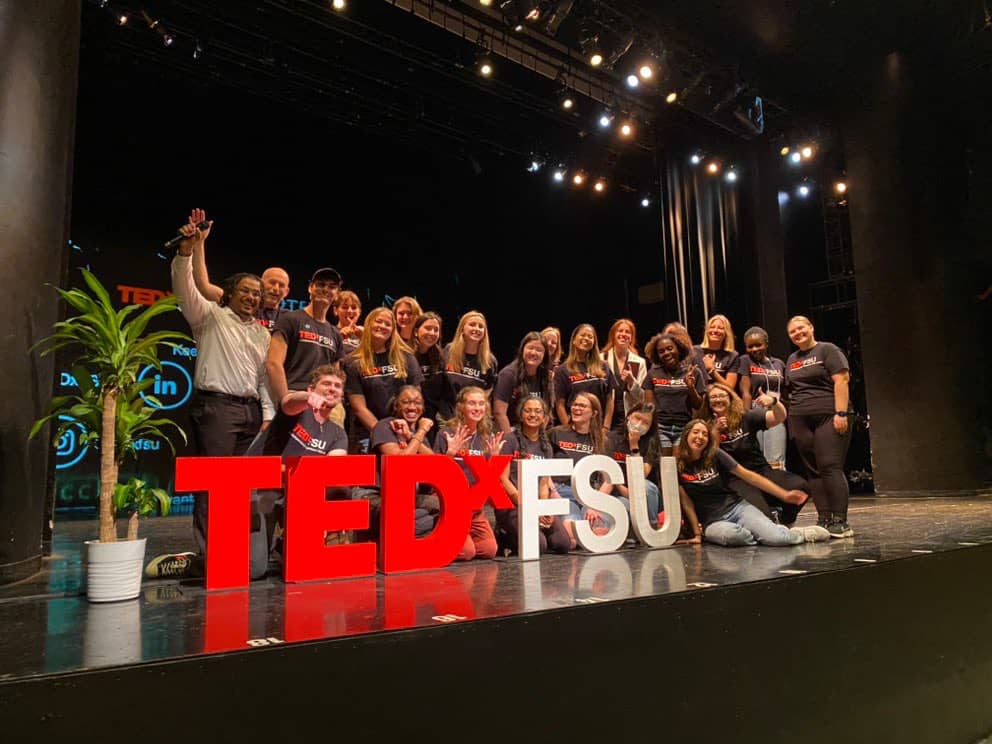 On April 4th TEDxFSU hosted their annual conference where CCI students Amy Ni, Laila Alfares, McKinnon Bell, Jack Bart, and Rachel Adeogun helped coordinate and plan the event. This year's conference "Rooted In Reality" featured six speakers, which included Florida State undergraduate and graduate students, as well as professors and alumni.
Psychology and Media Communication Studies student, Amy Ni, serves as the Executive Chair for TEDxFSU where she oversees the executive board as well as the steering committee. 
"My job is to put all the pieces together; make sure everyone knows their responsibilities; organize and coordinate meetings and emails; run the administrative team and event planning tasks for the conference such as registration and catering," says Amy. "Ultimately, my goal is to make sure TEDxFSU is happening!"
Laila Alfares, a Public Interest Media and Communication graduate student, is a member of the marketing steering committee at TEDxFSU, where she is responsible for raising awareness about the organization, reaching out to existing and new audiences, and promoting the yearly conference using both digital and traditional media platforms. 
"As a graduate student studying Public Interest Media and Communication with a 2-year experience in marketing and communication, working with TEDxFSU was the perfect opportunity to implement my skills and grow on a professional and personal level," Laila told CCI.
When CCI asked Amy about her proudest moment about being involved in TEDxFSU she said, "One of my proudest moments was to witness the growth of everyone in the team throughout a year of hard work! TEDxFSU is full of excitement, challenges, and unexpected circumstances as this is an annual conference that has a great impact on the FSU and the Tallahassee community! Our team was able to come together and overcome obstacles that might seem impossible to get done and finally make this conference happen! I am so proud of everyone!" 
Laila was asked by CCI about what she enjoyed most about TEDxFSU, and she stated "My favorite part about TEDxFSU is the passion of the people who work for it. We all believe in the impact of TEDxFSU and we are supported by an outstanding executive committee that always empowers its students and provides them with various opportunities to shine."
In addition to the student volunteers, CCI had two alumni involved at the TEDx event. Ritesh Gupta, a Digital Media Production alumnus and award-winning filmmaker, spoke during the event and William Walker (Chef Will), an Information-Communication Technology alumnus and musician, performed in-between the conference speakers. 
"The most valuable part of my college experience was meeting alumni and learning from their experiences," said Ritesh, "I want to pay it forward, and I hope that in 5-10 years these students will want to do the same."
Congratulations to all of the CCI students on helping put together another amazing TEDxFSU conference, and a huge thank you to our alumni who volunteered their time to share their experiences at TEDxFSU.
Click here to learn more about TEDx at FSU and follow them on Instagram @TEDxFSU.