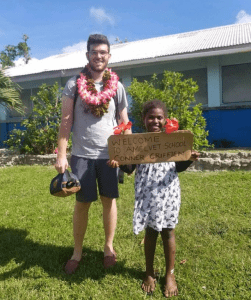 Connor Griffin graduated from Florida State in 2017 with two degrees: a B.A. in Philosophy and a B.S. in Information Technology. For some time, he worked as a Webmaster for ReThink Energy Florida here in Tallahassee, Florida. He then moved to Oldsmar, Florida, where he worked as a Communications Specialist at The Eye Center. A few years after this work, he made the bold and courageous decision to join the Peace Corps. "I chose Peace Corps because I thought now was the right time for me to take some risks and ideally start a career in service of others after I get back," he said.
This past April, Griffin headed to his new home of two years: the island of Malekula in the nation of Vanuatu. Malekula is in a group of islands in the Pacific Ocean region of Melanesia. Griffin and 35 other new members of the Peace Corps were sworn in after ten weeks of training. Training included learning Bislama (one of the official languages of Vanuatu), Vanuata culture, English literacy teaching, and healthy behavior change. With collaboration with the Ministry of Education, Griffin is one of 18 individuals who will be working in schools throughout Malekula.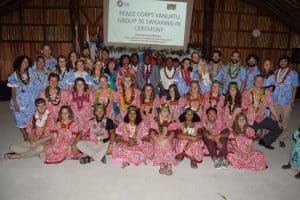 Griffin started working at Amelvet Primary School located in northeast Malekula in just his third week of living there, teaching the English language to both children and teachers. But Griffin plans to do more for this community than to just improve their English.
"Peace Corps is an amazing opportunity to do a lot of good, but it takes a lot of patience and a lot of understanding that a lot of good can seem like very little when it's happening. I'm very excited to start integrating more into my community and getting started helping my school set up a functioning computer lab   putting that IT degree to use," he shared.

As the last Peace Corps volunteer that will be there, Griffin is excited to help build a sustainable future for the school. "My hope is that every teacher has the knowledge and resources they need to build up all the students as much as possible."
Though Griffin is in Malekula to serve the people and promote peace and friendship, he is aware of the impact that the experience will make on him as well. "I know my community will benefit from me being here, but just as much I'm learning so much from them too," he said. Griffin looks forward to continuing a life of service when he returns from Malekula.