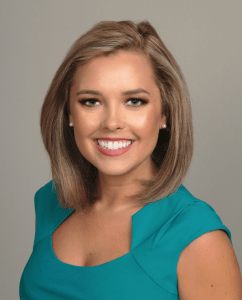 A native of Terra Ceia, Florida, Erin Lisch earned two degrees from Florida State University in 2014: one in Media Communication and another in Sports Management. During her time at FSU, Lisch combined two of her passions and began as a reporter for Seminole Sports Magazine, where she was often recognized for her talent and dedication. Lisch went on to shine at WFSU as a sports host and anchor, where she covered Florida State athletics.
After graduation, Lisch went to work as a news reporter for KVRR-Fox in Fargo, North Dakota. Looking back, she said, "It was a great (and cold) experience! It helped me become more independent and made it clear I'd go anywhere to make my dream as a reporter a reality."
Lisch came back to Tallahassee and worked as a multimedia journalist at WCTV covering all kinds of news. She has both the dedication and enthusiasm to immerse herself in what is going on around her in order to share it with the world. "Standing in the eye of a hurricane, flying in WWII bombers and even catching seven-foot gators! Those are some of my favorite stories I've been able to report," she said. However, it is the influence in the lives of others that drives her passion. She says, "My favorite part of the job is the impact I can make on people. Being able to share the facts and someone's story to make a difference in the lives of others makes all the hard work worth it."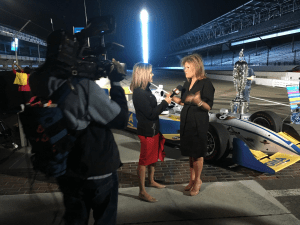 She recently won the 2017 Florida Associated Press Broadcaster award among over 600 other entries. She stated, "In 2016, I applied for an award and walked out as a finalist. This pushed me to work even harder the following year, and it paid off. This year, I was honored to win the award. It now sits on my shelf and I hope to add more to my collection during my career in news."
Lisch has been dedicated to the field since her days as a student at FSU, and continues to make her CCI community proud. She shared, "Without taking part in Seminole Sports Magazine and University Update, I would not be working in this field. My instructors pushed me to my limits and molded me into the reporter I am today. I'm forever grateful to Florida State University."
Lisch eventually took her talents to Indianapolis where she currently works as a multimedia journalist/reporter at WRTV.
—
Visit Lisch's Facebook page to stay up to date on her latest work.